The Panacea for Developmental and Infrastructural Challenges for Africa Initiative (PADIC-Africa) has empowered Edondon Community, even as it targets women in Obubra Local Government Area of Cross River State in development and forest sustainability.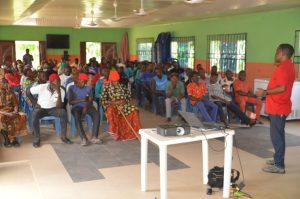 An inception workshop, held recently in respect of the initiative and titled "Developing Village Forest Economies and Sustainable Forest Management in Edondon", is funded by United Nations Development Programme (UNDP) and Global Environment Facility (GEF) Small Grants Programme (SGP).
The workshop was aimed at protecting the forest of targeted communities from further degradation through more effective rule enforcement and sustainable food production. In addition, it seeks to increase the forest by 20 percent through more effective forest management system with more inclusive forest monitoring and rule enforcement in the community.
Speaking during his presentation at the workshop, the Executive Director of PADIC-Africa, Dr. Martins Egot, said the project was developed as a follow up to the already existing project implemented in 2015/2016, titled, "Restoration and Sustainable Forest Resource Management Project" with support from GEF-SGP CBR+.
He explained that, due to the current wanton degradation of the rain forest through timber logging in Cross River State, the project would serve as a tool to strengthen the eco-guards in forest protection as watch dogs.
According to him, women are integral part of the project, hence, their participation and inclusion is paramount.
Dr. Egot added: "The project is also targeted at increasing women's income by 20 percent, which will be achieved through training on market gardening and planting of income generating tree crops like bush mango and also boost cocoa production by 30 percent through farmers training and adopt the system of reducing landscape degradation from forest clearing."
The Project Coordinator, Mr. Obongha Oguni, while taking the participants through the objectives and activities lined up to run for the period of 18 months, said 20 eco-guards would be trained as community watchdogs to support the implementation and enforcement of the community's forest management plan and by laws.
Other action points include: trained eco-guards are expected to raise 2,000 nurseries of indigenous tree species for regeneration and also provide cassava processing mill to them as incentive for monitoring their forest, to establish 1,000 seedlings of bush mango nurseries.
Community members will lean through the implementation of the project and be ready to replicate same in neighbouring communities. They are expected to organise themselves and carefully select eligible women, men and youths to implement the project.
While appreciating the gesture of PADIC-Africa, the Village Head Chief, Christian Imoh, said the idea of bringing such a project at a critical time when Cross River State is fast losing its forest is quite commendable.
By Stina Ezin, Calabar