In partnership with Amuwo Odofin Local Government (AOLG) in Lagos State and with support from the Heinrich Boll Foundation, Community Conservation and Development Initiatives (CCDI) has produced a participatory risk reduction and management strategy. As all local governments in Lagos face climate change risks, the strategy, according to CCDI's Director of Programmes, Kofo Adeleke, could be used as a model for all of them to build resilience.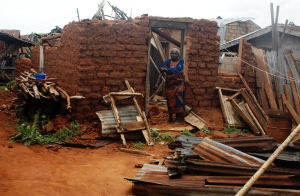 According to her, it also involved an analysis of powers given to local governments compared to state government level in land use regulations and policies, using AOLG as a case study. The plan, she adds, was developed through a series of focus group multi-stakeholder and multi-disciplinary discussions, with contributions from legal practitioners, local and state government officials, local government legislators, NGOs and a diverse range of community representatives. The areas under focus were: Wetland Conservation and Restoration; Flood Shelters and Evacuation Routes; Environmental Impact Assessments; Waste Management; and Public Spaces.
She states: "Local governments need to ensure that the challenges and peculiarities of communities are addressed and locally based waste management initiatives are stepped up. Environmental Impact Assessments should be carried out on all proposed public and private projects to ensure environmental protection to communities and better standards of development, and in some cases no development at all. Proper definition must be given to the status of open spaces within local governments and constructive dialogue over responsibilities for them is required with the relevant state and federal agencies, as they are vital for health and well being as well as  disaster risk reduction plans.
"Local governments must identify existing natural wetlands and engage with state and federal government over the protection of these areas, as their natural properties to absorb rainfall are threatened by poor land use planning and rapid urbanisation. As first responders in emergencies local governments must identify the required number of shelters and places of safety and assess suitability of locations and buildings for temporary conversion to emergency shelters. Road networks and their accessibility in cases of emergency must be examined. Local governments should ensure that by-laws, which can support climate change adaptation polices, are gazetted, otherwise it means that they are therefore not judiciable, which means they are not accepted in a court of law and cannot be enforced. The delays from Lagos State government in getting them gazetted are having a negative impact on the abilities of local governments to protect the environment.
"Especially with regard to waste management, wetland restoration and open spaces there appears to be inconsistencies with the powers given to local government and state government over scope for taking action. Local government officers need more knowledge of how to use the rights and powers given to local government in land use and environmental regulation matters.
Elected representatives of communities should utilise their powers and influence at state government level to ensure that local governments can carry out functions that will protect their communities from climate change threats. Improved institutional coherence between federal, state and local levels of government on environmental matters is critical if communities are to successfully adapt to safeguard their populations and assets from climate change."