In light of the fact that the green colour is rooted in Nigeria's heritage as a nation, Adeola Adebiyi of the non-governmental organisation (NGO), Decarbonising The Next Generation, underlines the fact that developing and implementing a Green Growth Policy is critical to the country's wellbeing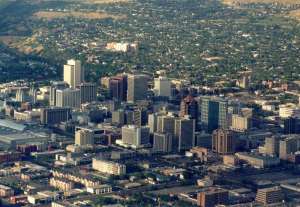 For Nigeria, the green is rooted in its heritage as a nation. It is a symbol of national identity as represented on its national flag. Although there are about forty other countries in the world that have the color green on their flag, it can be agreed that no other country identifies with the colour green as Nigerians do. Green is also the color that represents nature and the environment, which means that the physical environment and natural resources play an important role in the geographical and social history of Nigeria.
Green being the colour associated with growth, is significant seeing that the Nigerian economy is growing at a very fast pace. Quite recently, Nigeria surpassed South Africa as the biggest economy in Africa. Blessed as it is with natural and human resources, there are predictions that the Nigerian economy will continue to grow in the coming decades. It is therefore important to understand Nigeria's growth trajectory.
A trajectory simply means a course, a path, direction or route. Whichever way you may choose to define it, every system of economic growth has a pattern. For the rich European countries across the Atlantic, the pattern of growth was intensive industrialisation. For other countries across the pacific, specifically Asian countries, the growth pattern has been extensive development of their manufacturing sectors.
Many Nigerians are oblivious of the growth path of their economy. However, history has revealed that Nigeria is currently experiencing significant economic development, due to its great wealth of natural resources, mainly to oil and gas resources. Most of its earnings come from the direct sale of what is known as natural capital stock of fossil resources. This means that it simply extracts and sells its natural resources in the form of export.
This current pattern of economic growth is a major concern for the future of all Nigerians. Over exploitation of natural resources is unsustainable, especially when assets of commensurate value are not acquired to replace them. What usually happens is that income from exports is used to purchase imports. This is a situation, Paul Collier a renowned economist, in his book, The Plundered Planet, describes as "selling the family silver".
Another point of major concern is that, very often, unsustainable economic systems are allied or paralleled with environmental degradation. Environmental degradation is a combination of environmental pollution, over extraction of natural resources and unproductive use of natural resources.
Environment degradation is plaguing the nation and there seems to be an unconcerned attitude towards it. Overexploitation and mismanagement of natural resources have become the norm.  For instance, the country might soon experience scarcity of ground water resources if over extraction of ground water from the uncountable use of borehole machines, across the country are not properly regulated. In addition, bad management of waste, both toxic and non-toxic into the environment can cause dangerous environmental consequences. I must also mention the incessant air pollution from fuel emissions in major cities like Lagos, and land degradation, intoxication of water bodies, gas flaring and oil spill in the Niger Delta which all remain major issues the government is yet to tackle.
The point is that Nigeria could be having good economic benefits at the expense of the environment, a condition known as "brown growth". Brown growth is economic growth paralleled with overexploitation of natural resources and excess of carbon emissions.
One of the major causes of brown growth is lack of awareness about environmental issues. Even though environmental effects are not felt on a daily basis, they can bring about devastating impacts to human health and wellbeing. For instance, oil pollution and gas flaring in the Niger Delta also contribute to global greenhouse gas emissions hence climate change.
Nigeria must endeavor to understand that interactions with the environment are inevitable as everything necessary for survival comes from the environment. Everything is gotten from the environment, used in the environment, interacts with the environment, and is disposed of in the environment and so the need to be more conscious about the environment.
To arouse consciousness, social learning is critical. Government Institutions charged with the responsibility to protect the environment need to start stimulating social learning of environmental problems and create policies for environmental learning at all educational levels. Environmental protection involves many complex social and physical activities that need to be tackled not just by the government alone, but by every individual. Education can act as a high impact tool in this situation.
Corruption is another vice that requires a lot of attention. Corruption can jeopardise the wellbeing of the environment. In this part of the world, government projects and societal needs do not always tally. Yes, the economy must grow and yes, infrastructural development is important but some types of development are unsustainable and their impacts on the environment must be scrutinised thoroughly. Projects should be about people and their interactions with their environment and should enhance the entire wellbeing of citizens. Government officials should not take decisions that only favour project developers. Not every project is sustainable. Some projects impact the environment negatively.
The point is that the high level of environmental neglect could become a major constraint in sustaining the current and future economic growth of Nigeria which brings me back to the color green.
For a sustainable, balanced harmonious future, economic growth must be green and not brown. A green economy is one that is low in carbon emissions, low in pollution and resource efficient. In its simplest expression, "Green Growth" is growth that is environmental conscious. Achieving Green growth in Nigeria will involve developing policies that keep resource use and environmental impacts declining while the economy is growing.
Developing and implementing Green Growth policies in Nigeria is critical because the Nigerian population is projected to increase from 156 million people to 200 million by 2050. If this is an accurate projection, Nigeria may become the world's third most populous country after India and china. The huge population already puts tremendous pressure on the environment and will lead to higher consumption of food and water and other types of resources, exerting pressure on natural resources. Increased consumption of resources will lead to increased waste and combined with inefficiency and poor management of waste will in turn cause environmental degradation and the cycle goes on and on.
What this implies, is that Nigeria needs to better value its natural resources and environment. Effort must be made to protect its natural resources strongly as not all are regenerative or renewable in nature. Do not get me wrong, Green Growth does not refer to economic stagnation. Nigeria can off course continue to use its natural resources, however with more efficiency, reducing waste and preventing environmental pollution.  The opportunities for adopting green growth policies are tremendous for instance; turning waste to electricity in Mega cities like Lagos can solve some electricity shortage problems faced in the country.
In developing green growth policies, there must be a holistic approach and an implementation plan that can be followed. It must also involve all sectors.
Green Growth In the energy sector is an opportunity to replace unrenewable carbon resources with cleaner renewable energy resources such as wind, solar and bio energy.
Green Growth in agriculture means we have to reposition our agricultural sector as the engine of growth and development. It involves ensuring food security for our nation, and at the same time-   while- yielding environmental benefits and creating employment opportunities.
Green Growth in industry involves making sure that industries adopt cleaner production processes and use resources efficiently.
Green Growth in infrastructure transportation and even in the household is also very important.
Innovation will play a major role in a green growth trajectory, instead of acquiring every type of technology from abroad, the Nigerian government could encourage science and technology institutes to understudy and adapt technologies to local context. Young Nigerians can also be encouraged to use their creativity and energy to find solutions to our unique environmental problems.
Action should not be left to the government alone, every individual and corporation must understand their responsibility towards nature. This is a very hard requirement, but through education and awareness, it can be achieved. Corporate social responsibility (CSR) implemented by organizations should also embrace environmental sustainability. It should not only be about philanthropic acts. Environmental protection responsibilities should be included in CSR activities such as appropriate resource consumption, energy management, waste minimization etc.
Even though faced with a lot challenges, leaders in Nigeria should try as much as possible to avoid short sightedness in development, and to see how the country can move towards achieving a more sustainable green economy. Economic Growth should not only be about becoming bigger but on becoming more productive. That is indeed sustainable Green Growth.