A group, Concerned Bonga Oil Spill Impacted Communities (CBOSIC), has demanded payment of $3.6 billion as compensation from Shell Nigeria Exploration and Production Company (SNEPCO).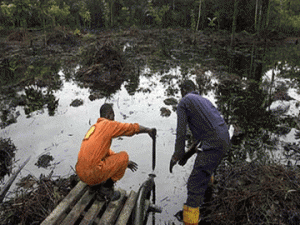 Its Chairman and Secretary, Mr Mike Tiemo and Gbigbi Andrew respectively, made the demand while addressing newsmen on Thursday, May 25, 2023, in Warri, Delta State.
Tiemo and Andrew said that their demand was a compensation for the damage caused the host communities as a result of the oil spillage in Bonga.
They said that the oil company should meet their demands within 14 days, saying that the oil spill had negatively impacted on the communities in the oil region.
The group leaders also urged SNEPCO to urgently clean up the environment, remediate and restored their land.
"We are aware that some impacted communities and victims are in court, but CBOSIC do not believe in litigation with the Shell Group.
"We hereby demand that Shell Group pay damages and compensation of over $3.6 billion as sanctioned by the National Oil Spill Detection and Response Agency (NOSDRA) within two weeks.
"Shell Group should also move swiftly to clean up the environment, remediate and restored our land," they said.
The group leaders recalled that the Bonga Oil Spill had on Dec. 20, 2011 destroyed the environment, acquatic and other means of livelihood of the communities in the coastal lines of Rivers, Bayelsa, Akwa Ibom, Ondo and Delta states.
"According to them, the concern Bonga oil spill communities have realised how oil exploration has been destroying and polluting our environment for several decades with impunity.
They said that the affected communities would not hesitate to take legal option, if their demands were not met within the stipulated time.
According to them, oil exploration has been a curse, rather than blessings for decades to the environment and people in the Niger Delta region.
The group leaders said that from Ogoni to Escravos; Forcados and Bayelsa, the stories had been the same tales of woes in oil exploration without a human face.
By Edeki Igafe