Nigeria's low level of success with the Great Green Wall project has been attributed to a lack of political will.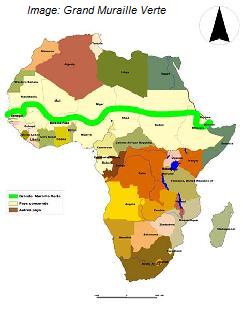 Coordinator of the Great Green Wall Project, Dr. Elvis Tangom, stated this during an interview at the United Nations Climate Change Summit (COP21) in Paris.
The project entails planting a wall of trees across Africa at the southern edge of the Sahara Desert as a means to prevent desertification.
Dr. Tangom said though Nigeria was the initiator of the project during the administration of former president, Olusegun Obasanjo, the project is yet to achieve its aims in the country.
He said: "You should understand that the Great Green Wall was a Nigerian initiative but Nigeria went down because she was not active. But, until recently, Nigeria became active again. Many countries were not active including Nigeria.
"The past administration allocated 15% of the federal budget to the Ministry of Environment for the project. That was fairly recently and that was last year.
"If you go to Senegal, Chad and Niger, they have advanced very much under the project. Senegal has reclaimed about four million hectares of land; Niger in the Zinder region with Nigeria has planted 50 million trees and reclaimed about one million hectares of land. Nigeria started this initiative but the national government was not actively engaged until recently. There are projects here and there by Food and Agriculture Organisation of the United Nations (FAO) and other agencies."
Dr. Tangom expressed optimism that the new administration would come on board and Nigeria will be able to achieve the aims of the project. "I am very positive that, within the next two to five years, the story will no longer be the same."
Not just about trees
The Great Green Wall initiative is believed to be a Pan-African proposal to "green" the continent from west to east in order to battle desertification. It also aims at tackling poverty and the degradation of soils in the Sahel-Saharan region, focusing on a strip of land of 15 km (9 mi) wide and 7,100 km (4,400 mi) long from Dakar in Senegal to Djibouti in Eritrea.
According to the project coordinator, "the popular belief that the Great Green Wall is about trees only is a limited perception to the project." Dr. Tangom said the project is also about improving the livelihood of the people living in degraded lands.
He adds: "The use of Great Green Wall is metaphoric. It is far from being about trees. It is a development poll. It is about creating development poll. It is about keeping people in their land. It is about making people love their land, to stay in their land to create wealth. To be able to have a good life and get rich in their land.
"In Nigeria, we have income generating schemes and startups giving to women. We have boreholes; we have firefighting, forestry and agro-forestry, afforestation programmes. The Great Green Wall project is a mosaic of many activities. What we call sustainable land and water activities.
"The biggest achievement of the project is that countries develop a harmonised regional strategy for the implementation. Countries developed and adopted their planned line of action for the implementation of the Great Green Wall Project. Those countries have now decentralised these strategies and include it in their local economic development plan. That is where sustainability comes from and a sense of ownership."
Migration and insurgency
The coordinator states: "Many of the young people leaving Africa in search of greener pastures and dying in the Mediterranean Sea are from the dry lands of Africa. They are from Nigeria, Eritrea, Djibouti, Somalia, Sudan Mali, Senegal and Burkina-Faso.
"If those young people were sure they were going to be able to stay in their land, and their lands can provide them with employment, they will have value for themselves. Look at Lake-Chad from 25,000 sq. km to 2.5 sq. km. What about the young people who were fishermen? If you are a young man and you are watching television and you see the way other young people are living. What will you do? You either fight or flee. When you fight, you join Boko Haram or become a trafficker. Or you travel by road then sea through the Mediterranean Sea and die. By the way, you are dead, and you can't provide for your family. And in Africa that is a very important issue."
Additional funds and countries
Dr. Tangom said the $4 billion pledged recently through the Global Environment Facility (GEF) for the Great Green Wall Project at COP21 would be utilised for projects on the ground.
"We have the structures, national and regional programmes already and it will be channeled to those projects," he disclosed, adding that 15 countries in the Southern Africa region have been included in the Great Green Wall Project.
"These new countries will work on projects that fight land degradation in Southern Africa. They will work on improving the quality of the dry lands in their region. It is a Pan-Africa project aimed at reducing land degradation."
A Director in Nigeria's Federal Ministry of Environment who spoke on condition of anonymity said seven states affected by land degradation such as gully erosion have been added to Newmap Nigeria, a project funded by the World Bank aimed at curbing the spread of erosion in affected states.
She added that the selected states will choose areas affected by erosion based on priority and such areas are among the next phase of reclamation under the land improvement component of the project.
Observers believe that the failure of the Nigerian government to comprehensively implement the Great Green Wall Project will worsen food insecurity, rural migration and conflicts among farmers and herdsmen.
By Tina-Armstrong Ogbonna