Prof. Christian Madu of the University of Nigeria, Nsukka (UNN) has urged federal and state governments, including Nigerians, to take decisive actions on tackling the environmental epidemic of used nylons and plastic bottles in the country.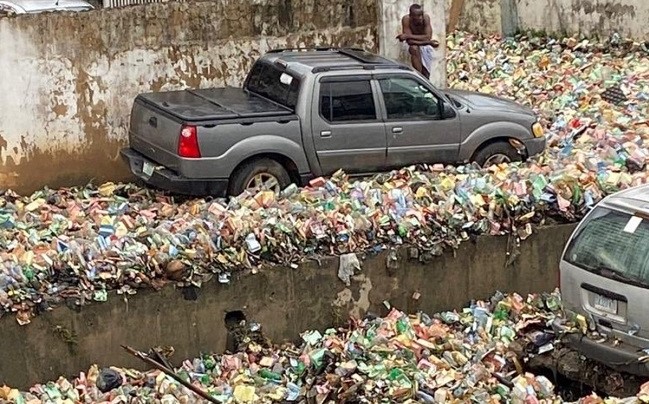 Madu, a Professor of Environmental Management and Control, made the call in a chat on Sunday, August 22, 2021 in Enugu, the Enugu State capital, on the ubiquitous littering of used nylons and plastic bottles nationwide.
Nylon and plastic bottles are synthetic polymers composed of polyamides, which are silk-like thermoplastics, generally made from petroleum. They are inorganic and non-degradable materials.
Madu noted that used nylons and plastic bottles remained the remote causes of some environmental problems of both private and public concern.
He stated that the indifference to the epidemic of used nylons and plastic bottles would continue to cause the nation and her citizens present and future huge environmental, agricultural and health damages.
According to him, the present problem of our soil not producing bumper harvests and micro-organisms not aiding the soil to perform its natural function can be attributed to millions of buried nylons and plastic bottles.
"Some of these millions of inorganic materials are either buried under or at the low soil level of the ground; while over the years they had continued to discharge their harmful petroleum substances on the soil as they reacted to atmospheric heat.
"They are also polluting underground water, which most people use as wells or boreholes scattered all over the country and might be the lead cause of relatively new and complicated sicknesses affecting our population," he said.
Madu said that the present flash flooding most people in well-planned cities complained about had its remote cause in millions of these used nylons and plastic bottles finding their way into theopen drainage system, otherwise known as gutters.
The don said: "If one takes a patient look and flow of water, you find out that used nylons and plastic bottles in large quantities have blocked the drains.
"When the drains are blocked, naturally, water will find its way and over-flow leading to flash flooding of major roads within few minutes of a downpour in major or planned cities," he said.
Madu, who is a Supervisor of Lead Researchers at the Centre for Environmental Management and Control, UNN, called on the government, organisations and institutions to sponsor a research for a more environmentally friendly system of packaging.
"The research must seek to find organic and bio-degradable alternatives to these inorganic petroleum materials, especially the packaged nylon sachet water people drink which end up as used-nylon wastes that find their way into drainage systems, thereby constituting the worst menace of our generation," he said.
The don, who said that stopping people from buying sachet water would be very difficulty due to its affordability by all, however, added that massive enlightenment and research on environmentally friendly bio-degradable materials remained the answer in the long term.
"This current inorganic epidemic must be dealt with since you cannot walk up to a block without seeing bags of sachet water littering everywhere and they stay permanently.
"In fact, there are recent researches which show that the amount of used nylon and plastic materials currently deposited in the oceans are more than the fishes.
"So, it is an epidemic and we are gradually losing our aquatic life globally as well," he said.
Madu also urged the government and community authorities to use the Extended Producers Responsibility (EPR) to ensure that used nylons and plastic materials were picked up by the producers and probably recycled.
"If the government and local authorities make it mandatory to implement EPR; then, the producers are identified and if any nylon is seen anywhere the particular producer having his name on the nylon would be surcharged.
"This will make the producers employ people to collect them, as well as join the sensitisation of their patrons not to dump the sachet water nylons, ploy bags and plastic bottles carelessly anywhere.
"They will create collection centres within neighbourhoods of their sales/operations so that they collect these non-degradable materials for proper disposal or recycling," he said.
By Stanley Nwanosike