Sustainable development stakeholders have called on all tiers of government to accelerate progress towards reducing the impact of climate change on the environment.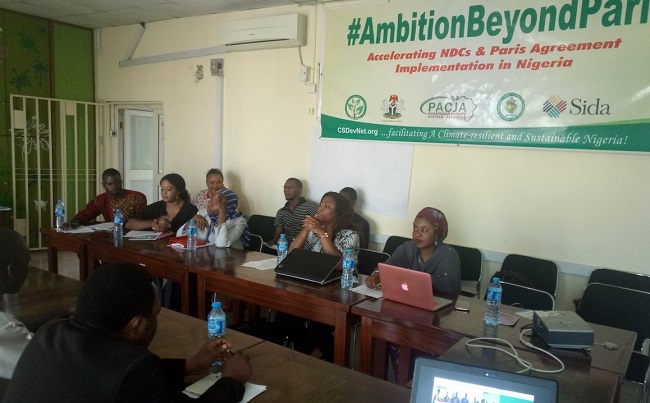 They made the call at a National Civil Society Consultative Workshop on the Conference of the Parties (COP24) to the UN Framework Convention on Climate Change (UNFCCC), in Abuja on Thursday.
Mr Michael David, the Head, National Civil Society Platform Subcommittee on Mitigation and Energy, said that the issue of climate change was already affecting Nigeria through extreme floods, food insecurities, farmers and herders' crises, among others.
According to him, Nigeria Government is signatory to the Paris Agreement in 2016, which saw the need to speedily reduce greenhouse gas emissions and to build resilient communities.
He said that this would help to reduce the impact of climate change, protect lives and livelihoods and health improvement.
David said that Nigeria might be at risk if it failed to reduce gas emissions below 1.5 degree Celsius, especially as it relates to food security, adding "although the government is trying, it should do more''.
"Government is trying now to encourage people to go into farming, but with erratic rainfall being witnessed now, there would be food insecurity issues.
"As a country, our agriculture is rainfall dependent, we don't practice irrigation much, it is still the traditional way of farming, so with the change in rainfall pattern that will come in as a result of temperature increase to 1.5 degree, there may be food security.
"These will also lead to security issues, health issues, we are hopeful that with the next heat season, Nigeria does not witness meningitis as witnessed in previous years.
"All these are as a result of climate change, if temperature continues to increase, there are chances of this becoming frequent and higher, that is why we need to take urgent and serious action now."
According to him, countries are making efforts to reduce total dependence on fossil fuels through the use low gas emissions and electric vehicles, saying total dependence on oil will not take us far.
David urged the country to begin to invest in climate-smart agriculture, renewable energy, adding that this would boost job creation and improved agriculture exports.
On climate financing, he said that although Nigeria had put some money down for green bonds, there was the need for the private sector and other multinationals to support it to full realisation.
"We urge the private sector to put their endowment funds into climate and environment-related causes, they should invest in renewable energy, it will not be a wasted effort," David.
Dr Peter Tarfa, the Director, Climate Change Department, Federal Ministry of Environment, said the Federal Government was institutionalising and strengthening the capacity of sub-national governments across the country in the delivery of climate actions.
Tarfa, represented by Mrs Asmau Jibril, said Nigeria had established Climate Change Departments in all the 36 States and the FCT.
He said that this had helped to create institutional framework for mainstreaming climate change into government financial and economic planning and budgeting at all levels.
"The department has also maintained impactful working relationships with stakeholders to inform the development of the Sectoral Action Plan.
"This plan will demonstrate the implementation of the Nationally Determined Contributions (NDCs) at sector level across the five targeted sectors thereby creating engagement opportunities for all.
"In line with the need to catalyse the delivery of the NDC goals, the Federal Ministry of Environment has commenced the implementation of a two-year UNDP-Support Programme.
He said that the aim was to further develop a financial strategy for funding the NDC Sectoral Action Plan and drive private sector participation.
"Accordingly, the ministry will continue to provide the enabling framework through its capacity as the focal government institution to drive more ambitious carbon reduction targets, galvanise and accelerate climate actions among stakeholders toward the 2030 goal of NDC," Tarfa said.
The Climate Change Bill seeks to provide a legal framework for mainstreaming climate change responses and actions into government policy formulation and implementation.
The bill also proposed the establishment of a council to coordinate climate change governance as well as support the adaptation and mitigation of the adverse effects of climate change in the country.
By Tosin Kolade