The Federal Government has dragged Shell Nigeria Exploration and Production Company before a Federal High Court sitting in Abuja, claiming N1.3 trillion against the oil firm for the December 20, 2011, Bonga oil spill.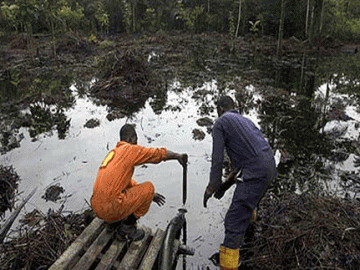 The spill, which caused massive pollution in coastal communities in Delta and Bayelsa states, occurred in Shell's Bonga Field located about 120 kilometres off the Nigerian coastline.  The project itself was allegedly linked to a scam involving Vetco International Limited whose officials were said to have paid $2.1 million bribe to Nigerian officials to undercut customs regulations, following which a US court fined Vetco International $26 million fine for violating the U.S Foreign Corrupt Practices Act. The bribes were paid between September 2002 and April 2005 when Vetco International was providing engineering and procurement services and subsea construction equipment for the Bonga project.
The suit is protecting the interest of fishermen and persons, numbering about 285,000 from 350 communities and satellite villages, affected by the crude oil spillage. The government is demanding N884 billion as compensation for the impacted communities and another N495 billion as restitution and restoration of the devastation of the economic zone of the Nigeria's territorial waters. It is also asking for N50 million as cost of the legal action.
Co-defendants in suit are Shell Petroleum N.V, B.V Netherlands International Indusrie-E Handel Maatschappij, Shell Transport and Trading Company Plc, and Royal Dutch Shell Plc, who are all allied companies of Shell Nigeria Exploration and Production Company. In an affidavit sworn to by a Deputy Director, Oil Field Assessment Department of National Oil Spill Detection and Response Agency (NOSDRA), Mr. Akindele Olubunmi in the suit, counsel to the plaintiffs, Awosika Adekunle, averred that he had the consent and the authority of President Muhammadu Buhari, Mr. A. Mallam (SAN), Attorney General of the Federation and Director General of NOSDRA, to depose to this affidavit.
The Environmental Rights Action/Friends of the Earth Nigeria (ERA/FoEN), in a reaction, has commended government action.
In a statement issued in Lagos, ERA/FoEN Executive Director, Godwin Ojo, was quoted as saying: "This is cheery news no doubt. The days of impunity by Shell in Nigeria is nearing its end. The Nigerian government has by this decision taken a giant leap in siding with the people against a corporate bully. It is commendable."
Ojo explained that it was however sad that the road to justice for the impacted communities is only coming now, more than five years after their lives and livelihoods were rudely obfuscated, even as he noted that justice cannot be denied ultimately.
"The Buhari administration has shown the way. If British Petroleum (BP) was made to pay for the Gulf of Mexico spill, why Should Shell not pay double for its shameful impunity all these years? Nigeria's sovereignty over oil companies cannot be compromised. Corporate capture of the state and resources has led to untold hardships for the local fishermen who were stopped from fishing while the spill wreaked havoc on marine life and fishing in the Nigeria's coastal communities," Ojo stressed, adding:
"ERA/FoEN pledges to support the case and provide technical support that will ensure justice is done. We want to add that however that while environmental remediation is important, compensation for the impoverished fisher men and women was not mentioned in the suit and this should immediately be a part of the suit. The time of Shell's impunity is over."