The Federal Government says that it will demarcate 6,000km cattle routes across the country in 2017.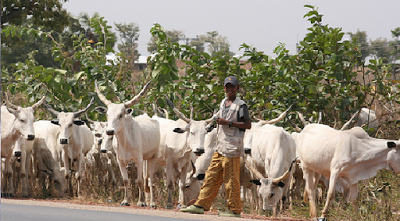 Alhaji Mahmud Bello, the National Coordinator, Grazing Stock Routes, Federal Ministry of Agriculture and Rural Development, said this in an interview with News Agency of Nigeria in Mararaba Dajin, Tafawa Balewa Local Government Area of Bauchi State.
Bello said: "We are going to provide 6,000 kilometres of cattle routes across the country; we are going to open the primary routes first, while the state and local governments are expected to launch the secondary routes.
"By the time we identify the primary stock routes, being frequently used, we will develop them.
"All the same, all the states may not have an equal share of the routes; Bauchi may have 200 kilometres and Plateau may have 50 kilometres but we are going to spread it."
Bello said that the cattle routes were aimed at boosting livestock production, adding that crop farming had benefited a lot from the agricultural policies of the previous administrations.
He said that the ministry would also improve the genetic resources of the indigenous cow, which was currently producing 1.5 litres of milk per day, to enable it to produce 25 litres of milk per day.
According to him, the new plans will prevent people, particularly farmers, from encroaching into stock routes, grazing areas and selling those areas that have been mapped out as graving reserves since 1962.
Bello said that dams, boreholes, grazing reserves, stock routes and other facilities, which the government had earlier provided for the pastoralists, would be handed over to them for optimal utilisation.
He noted that such facilities were hitherto abandoned by herdsmen who decided to migrate to other areas, thereby resulting in their clashes with farmers.
He said: "This time around, the Federal Government will strive to hand over all the facilities to the pastoralists so as to enable them to take care of them.
"Besides, we are going to develop 50 hectares of land as pasture development centres for seed multiplication in all the grazing reserves in the country.
"The centres will serve as seed banks for commercial pasture production, as part of the goals of the proposed youth empowerment programme."
Bello recalled that the Federal Government had, in 2016, requested state governments to provide 5,000 hectares of land within their grazing reserves for commercial pasture production.
He said that when the pasture development project was executed, it would encourage pastoralists, who were migrating in search of pasture and water for their animals, to settle down in one place.
He said that in 2016, the ministry carried out a public sensitisation campaign on the programme in 10 states, adding that it was currently carrying out the campaign in five other states.