The Programme Manager, Fight Against Desert Encroachment (FADE) Africa, Bunmi Obanawu, has canvassed good price on plastic materials to discourage Nigerians from using them.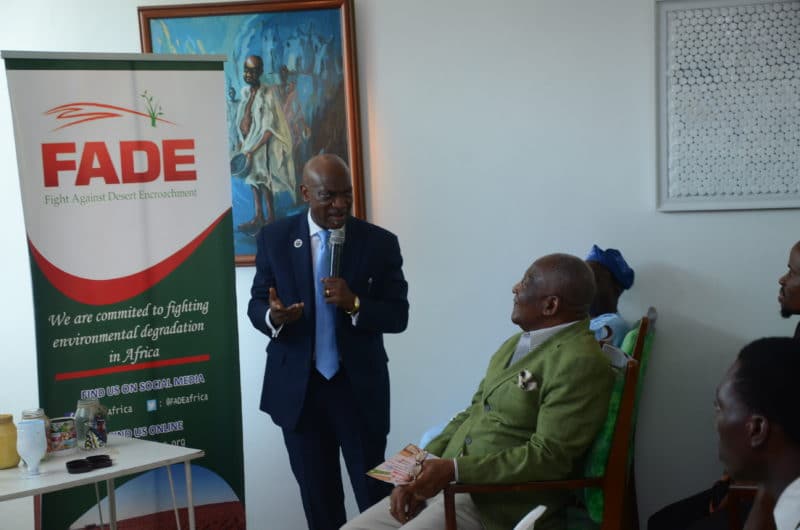 Speaking in Lagos on Tuesday, June 5, 2018, during an art exhibition tagged "Art Goes Green" to mark the World Environment Day (WED), Obanawu said: "When we are made to pay for plastics, we learn to make less use of them."
With the theme "Beat Plastic Pollution", the 2018 WED is urging humanity to refuse any plastic material that cannot be reused, with the slogan "if you can't reuse it, refuse it". This is a clever phrase reminding people to be conscious of their plastic usage and to try as much as possible to reuse their plastic.
The United Nations is teaming up with organisations and individuals around the world to raise awareness on the issue of plastic pollution and also promote a reduction in the single use of plastic.
According to Obanawu, we should learn to go shopping with our old bags; that way, we would be saving humanity from danger by reducing the amount of plastic in circulation.
She noted that Nigerians were very dependent on plastics, hence the materials can't be eliminated completely, but "we can reduce the problem."
FADE Africa is a non-government organisation founded by Newton Jibunoh, the famed explorer and adventurer. The members pride themselves in environmental activism and have been involved in numerous environmental activities since inception.
"Plastic is everywhere. It is in our homes, offices, parks, cars and natural environment. More than 70 per cent of the plastic used today is used only once and discarded. Plastic materials take more than 100 years to fully decompose, but are used on a daily basis. With all the plastic in circulation, it forces us to ask 'where is our plastic going?'" she said.
The exhibition is FADE Africa's bid to answer the question and many more bordering on the future of the environment.
The event was not only to enlighten the guests on other ways of reusing their plastic waste artistically; it was also an avenue for the participants to learn about the increasing danger of plastic pollution with the intention of changing mindsets for the better.
To get the young minds involved in such a positive event, FADE Africa invited students from four secondary schools: Victoria Island Senior Secondary School, Kuramo Senior College, Government Senior Secondary School and Parenthood Foundational International College to be a part of the event. Some of the schools displayed arts and crafts, while others gave short intelligent speeches. Rosemary Adibe spoke on behalf of Victoria Island Senior Secondary School.
Wale Adebiyi, co-founder of Wecyclers, a recycling company, talked about the dangers of plastic pollution, the need to imbibe the culture of recycling and how his company used incentive-based strategy to encourage people to recycle.
Wecyclers says it has over the years worked to raise awareness on the issue of recycling waste.
He urged Nigerians to imbibe the 3Rs of plastic use: reduce usage, reuse or recycle.
Asserting that recycle should be the last resort, he urged the participants to teach others to manage plastic.
The artists who showcased their art made statements with their thought-provoking pieces of art.
Yelloseesee Uwaoma, who makes classic art with regular pens, displayed beautiful pieces created from plastic. The idea behind his work was recreating art from trash.
Odunayo Ajayi, a photographer and concept artist, illustrated how the society is drowning in plastic.
Olusola Ajagbonna, an upcycling professional from My Craft Life In Lagos, also graced the occasion with her incredible artefacts made from recycled plastic.
She engaged the participants in a short session of upcycling plastic. This proved to be very engaging and interesting as people left with light bulb ideas for other uses of their plastics instead of disposing after a single use.
Amb. Ayoola Olukanni, the newly appointed director-general of Nigerian Association of Chambers of Commerce, Industry, Mines and Agriculture (NACCIMA), at the event, stated that going plastic-free was possible, as Kenya, African country, had successfully banned plastic.
The environmentalist canvassed inter-generational trust, where the older generation would save the environment for coming generations. "One generation must treat the environment in such a way that coming generations will find it conducive."
Jibunoh encouraged everyone present to care a bit more about the environment. He addressed the youth especially because of his belief that the youth were indeed the future.
Olukanni left the audience with the catch sentence: environment is the heart of the matter; let us make it matter of the heart.