Scientists have been asked to simplify information about their work and technologies for the public to understand.  One of the technologies that researchers are still failing to communicate to the public effectively is modern biotechnology.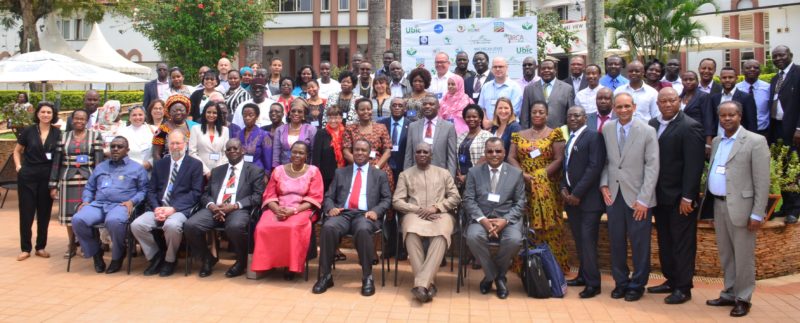 Modern biotechnology is a term adopted by international convention to mean techniques for the manipulation of genetic material beyond natural breeding barriers.
And for this to be fully embraced in Uganda there is a bill before parliament seeking to have a law that will regulate the technology, facilitate its safe use and redress.
The observation was made by the Minister for Science, Technology and Innovation, Dr Elioda Tumwesigye while officiating at the opening of Agri-biotechnology and Biosafety Communication (ABBS) 2017 Africa Symposium held at Laico Lake Victoria Hotel, Entebbe in Uganda.
The symposium attracted scientists, regulators, policy makers and communicators from Nigeria, Uganda, Kenya, Malawi, Tanzania, Zambia, Mozambique, South Africa, Senegal, Togo, Burkina Faso, Cameroon, Mali, Sudan, Egypt, Ethiopia, Malaysia, Belgium and America. It was conducted under the theme "Strengthening communication for improved biosafety management".
It was organised by the International Service for the Acquisition of Agri-biotech Applications (ISAAA AfriCentre) with support from the Uganda National Council for Science and Technology (UNCST), NEPAD, COMESA, SCIFODE and Ministry of Agriculture.
The symposium was also aimed at providing an opportunity to share experiences and best practices on biosafety communication in Africa.
The participants further exchanged information about the regulation and safe use of biotechnology research tools and products, which they said is an often neglected aspect of the risk analysis and decision-making process for genetically modified organisms (GMOs), which requires urgent investment and development.
They noted that symposium was critical in Africa where various products are under development and promising to provide staple crops that are resistant to diseases and pests, more nutritious, and survive in increasingly challenging climatic conditions.
According to the minister, scientists still fail to explain agricultural biotechnology to the public and yet they must communicate the technology to ordinary people, adding that they should take advantage of the symposium to improve their communication skills.
"One way of effective communication about agricultural biotechnology, scientists must explain in simple terms and tell the public how the technology works and how it will help in solving challenges that farmers face in the country," he said.
Tumwesigye admitted that Uganda is experiencing excessive drought as a result of climate change, fall in rain patterns, famine, starvation to the extent of people dying yet technology have the capacity to address scarcity of water and improve food security.
Uganda's ability to have adequate and nutritious food is being challenged; some people have died of hunger. Those who have are not eating enough and not even well balanced diet, as result many are stunted, and have prolonged ill health, observed Tumwesigye.
He said much Ugandans can get food using traditional methods of breeding and irrigation; traditional crops may still not survive emerging pests and diseases of which some have been worsened by climate change, like the fall army worm.
"And yet scientists have been able to identify genes that can be added into another plant to create resistance to pests and diseases it will enable us increased production and have enough food  that will solve the challenge of hunger and malnutrition.
So the issue is we need to communicate to our population saying we have this challenge, and through this method or piece of work by scientists, that is how we are going to solve them," Tumwesigye added.
Dr. Margaret Karembu, the  director, ISAAA AfriCentre, said the symposium was  aimed at bringing together scientists, researchers and legislators to share innovative ways of communicating  biosafety concepts by sharing experiences and best practices, towards improving agri biotech and biosafety communications among scientists.
But for these to fully communicate, they will need training in communication so as to package their information adequately, added Dr.Mahaletchumy Arujanan, executive director of Malaysian Biotechnology Information Centre (MABIC).
She added that, in Uganda, these should make use of the Uganda Biosciences Information and Innovation Centre, (UBIC) based at the National Crop Resources Research Institute (NaCRRI) in Namulonge, one of the research stations under National Agriculture Research Organisation (NARO).
Robert Kafeero, who chairs the Ugandan Parliamentary standing committee of Science and Technology, said several African countries have recently made various important biosafety decisions related to genetically modified (GM) crops, including decisions to authorise their general/environmental release.
He, however said, the ultimate success of delivering these products to farmers is threatened by tenuous support of these decisions from policymakers and the public, due to limited understanding of biosafety concepts, regulatory processes and decision-making factors.
"We have many political scientists who are our policy makers with limited understanding of biotechnology yet they make policies that have an effect on scientific and research work," he said.
Dr. Rufus Ebegba, the Chief Executive Officer of National Biosafety Management Agency (NBMA) in Nigeria, said Biosafety Communication in Nigeria has identified different stakeholders to understand their different perspective and interest with a primary focus of biosafety.
"Good communication is paramount as it builds confidence in the biosafety process and helps to influence the public acceptance of approved products," Dr. Ebegba said.
By Hope Mafaranga, in Entebbe, Uganda