Members of the Association of National Best Farmers in Ghana have called for intensive education of farmers on agricultural biotechnology and genetically modified organisms (GMOs) in order to understand what the technology is about.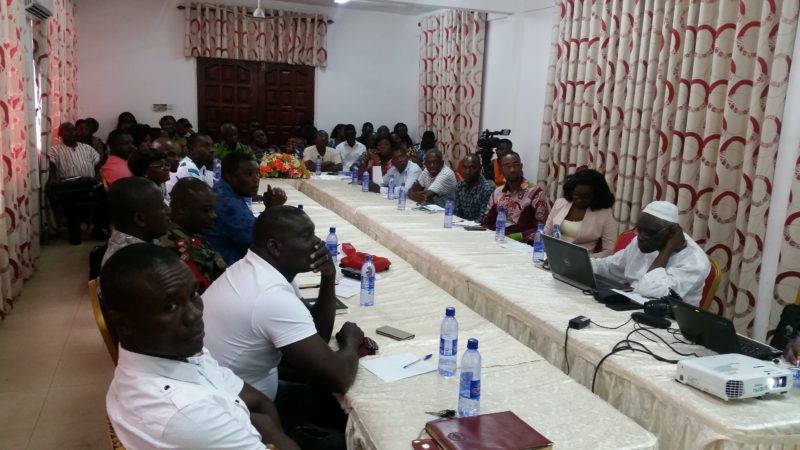 They said that, as farmers, they were not against GMOs, but they needed accurate information to dispel speculations that have portrayed "this science as an evil that must be detested."
Biotechnology is the scientific process through which scientists change the genes of plants and animals by introducing into them desirable genes from other related species. The produce or products of this process are known as GMOs.
The farmers expressed their sentiments at a recent sensitisation workshop on biotechnology and biosafety in Accra organised by the Ghana Chapter of the Open Forum on Agricultural Biotechnology in Africa (OFAB) as part of its quarterly activities for the last quarter of the year. The purpose was to enhance their knowledge on biotechnology as one of the options that farmers could apply to address challenges that confront agricultural production and productivity.
The farmers wanted to understand clearly, current notions about biotechnology and GMOs such as discontinuity of seed generation from primary seeds as is the practice with conventional seeds, which is a big issue for Ghanaian farmers, who are mostly small holders.
The Director of the Biotechnology Nuclear Agricultural Research Institute (BNARI) of the Ghana Atomic Energy Commission (GAEC), Prof. Kenneth Danso, took them through the process of the development of biotechnology and GMOs. He said the science was evolved out of the need to address problems of pests and diseases that affected cultivation and yields, and which normal conventional methods could not address.
He cited cassava as a staple food crop also considered as a food security product in view of its wide range of uses, whose leaves, stem and roots are affected by diseases that result in low yields and reduce farmer incomes. Prof. Danso observed that often farmers do not pay attention to these diseases because, according to him, they are able to harvest "something" at the end of the day and so do not realise how much they are losing.
The BNARI Director said the science of biotechnology can be used to address these diseases and enhance the nutritional status of cassava, which is basically a carbohydrate. He said when the technology becomes available it will not change the traditional mode of cultivation through stem planting.
Currently, organisations such as the USA-based Donald Danforth Plant Science Centre are carrying out studies into tropical crops such as cassava that are not the target of big seed companies. This not-for-profit organisation is conducting research with a focus on strengthening the disease resistance ability of cassava and enhancing its nutritional contents.
A Senior Advisor to the Ghana Programme for Biosafety Systems (PBS), Prof. Walter Alhassan, spoke on: "Exploring the connections: Ghana Seed Sector Regimes: Yesterday, Today and Tomorrow". He explained that in Ghana seeds were generated through two main ways – synthetic and open pollinated varieties, whose advantage is that farmers can save seeds and replant and the hybrid produced from controlled cross pollination of two different varieties of the same plant to produce a new plant variety with desirable traits. The new variety usually yielded much higher than the parent plants, but farmers cannot save seeds for replanting.
Prof. Alhassan talked about the challenges facing the seed sector such as inadequate seed production, processing, storage and quality assurance capacity. He said the Seed Regulatory Regime was introduced in Ghana to ensure the production of quality seeds.
He said the seed industry was currently regulated by the Plant and Fertiliser Act 803 of 2010, which regulates production, inspection, importation, exportation and commercial transactions related to seed in Ghana as well as the activities of growers, cleaners, importers and exporters of seed.
He explained that the future of the seed industry relates to the Plant Breeders Bill (PBB) and the Patent of GM Seed, and said both of them were related to Intellectual Property. The draft PBB is now at the Attorney General's office to be submitted to the cabinet and subsequently to Parliament.
The essence of Prof. Alhassan's presentation to the National Best Farmers was that "very soon Ghana will have available all three sources of seeds – the open pollinated variety, hybrid and the genetically modified seeds."  Farmers will not be obliged to stick to one, but will exercise their freedom to go for the option that they deem best for increased productivity, as is the current practice of farmers in some developed countries.
A member of the OFAB Team, Dr. Richard Ampadu-Ameyaw, talked about the "Socio-economic effects of Biotechnology and GMOs", and made a case for the adoption of agricultural biotechnology. He said the threats to the agricultural sector and food security in general were key issues for consideration.
Dr. Ampadu mentioned some of the threats as the current growing global hunger and ever increasing population that has outpaced  food production; declining soil fertility at an unprecedented rate such that natural rate of soil replenishing has dwindled; malnutrition and diverse nutritional needs due to lack of nutrients rich foods, resulting in high incidences of ill health and mortality; while, conventional technologies were unable to produce the food needs of the growing population nor combat some diseases and challenges of plants and animals in terms of time and costs.
He explained that this situation was statistically reflected in 100 million people experiencing hunger worldwide because of the high food prices; 800 million people suffering from chronic food shortages; world population expected to reach nine billion by 2040 amidst declining food production; and poorer countries will need to increase their food imports bill by 40 percent in the nearest future to meet the food needs of the rising population.
Dr. Ampadu said the adoption of biotechnology can serve as a redress mechanism in various ways. The technology could aid the growing of more food on less land, thereby enhancing productivity and efficiency gains. It will ensure disease resistant and drought tolerant crops, which implies improving production and productivity and hence efficiency. Moreover, biotechnology will ensure highly nutritious food that could contribute to good health and general welfare of all including farmers and consumers.
In her presentation, Mrs Nana Akua Yeboah of the Food and Drugs Authority (FDA) focused on the safety of GM foods and stated that when it comes to issues of safety of GM foods, "the concern of toxicity, allergenicity, adverse impact on nutritional composition, as well as unintended effects are legitimate."
"And the only way to ascertain their safe use with respect to human and animal health is a scientific evaluation of safety endpoints," she said. Mrs. Yeboah explained that there was in place international consensus on the principles and guidelines for assessing the safety of GM foods through Codex. The Codex prescribes food and hygiene standards among other things, and is published by the UN.
She stated that "GM foods that have been approved per these guidelines are deemed to be as safe as or not riskier than their conventional counterparts," adding that "any GMO that fails to meet the safety endpoint per the Guidelines will not be given market authorisation."
The Country Coordinator for the PBS, Daniel Osei Ofosu, spoke about "Biosafety and Biosafety Regulations in Ghana". He explained that biosafety was the process of scientifically evaluating the potential effects of a GMO on the environment, human and animal health.
Mr. Ofosu said biosafety regulations have been introduced "to ensure an adequate level of protection in the field of safe development, transfer, handling and use of genetically modified organisms resulting from biotechnology that may have an adverse effect on health and the environment…"
By Ama Kudom-Agyemang