Experts have warned that jet streams intensified by global warming will increase the frequency of turbulence on transatlantic flights by 50 percent.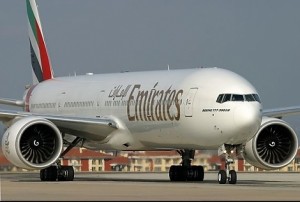 Flights encountering air turbulence will double and the average strength of turbulence will also increase 10 percent to 40 percent," says Paul Williams, a Royal Society research fellow at the University of Reading.
"Turbulence causes more than bumpy flights," says Manoj Joshi, lecturer on climate dynamics at the University of East Anglia in Norwich, England. "It can potentially cause injuries and even airplane damage in extreme cases."
Airlines pay tens of millions of dollars in damages caused by turbulence every year, state Joshi and Williams in their report published recently and titled: "Intensification of Winter Transatlantic Aviation Turbulence in Response to Climate Change."
Turbulence is caused by several factors, including atmospheric pressure, jet streams, mountain waves, cold and warm fronts and thunderstorms.
It can strike when the sky seems clear. In fact, the clear-air turbulence is the most dangerous because it is undetectable and usually encountered at the higher flight levels utilised by airliners.
Passengers who have experienced it often say the aircraft hit an "air pocket" or it "suddenly dropped". As the aircraft moves up and down, passengers experience rapid changes in vertical acceleration, creating the dropping sensation. Most injuries are caused by air turbulence and happen when passengers are not wearing seat belts.
Williams says airlines can avoid turbulence by choosing a different route, but it will affect travel time. Longer travel time will also mean greater fuel consumption. Greater fuel consumption will lead to higher carbon dioxide emissions, which will contribute to global warming.
He adds that more fuel also means "higher costs for the airlines that can probably also lead to higher fares."
The researchers used a climate model to study the jet streams at their peak strength during winter over the North Atlantic Ocean. They chose to focus on this area because of its heavy flight traffic, with over 600 transatlantic crossings daily.
"In the future, we will also study other regions," says Williams. "Jet streams are expected to be stronger and will probably affect Pacific flights as well."
On the other hand, airlines seem to be taking their destinies into their own hands by investing in measures to become environment-friendly, by curbing fuel use as well as carbon emission.
For instance, Emirates Airline has described its Dubai-San Francisco flight as the longest green journey.
The airline said it worked closely with government agencies in Dubai, Russia, Iceland, Canada, the United States and other countries to plot what it calls "the most environmentally-sophisticated route and trip possible to help save an estimated 2,000 gallons of fuel and 30,000 pounds of carbon emissions on the 16-hour non-stop service."
The firm prefers the Boeing 777-300ER jet to the massive, two-level Airbus A380 jetliner to service the route, believed to be part of the airline's multi-billion-dollar investment in economic and environmental efficiencies.
Rather than fly horizontally around the globe, the over 8,000-mile, cross-polar journey instead adopts an innovative flight path that takes the aircraft vertically and northward towards and over the North Pole onto the other side of the world, downwards to the western end of the US where San Francisco (and other cities like LA) is located.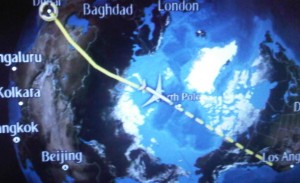 Departure route out of Dubai provides an unimpeded climb through to cruise altitude, allowing the plane to reach optimum cruise altitude as quickly and efficiently as possible.
Negotiations with the Russian government allows for a preferred route over Russian and Canadian airspace for the most efficient path, taking into account prevailing winds and the aircraft's weight.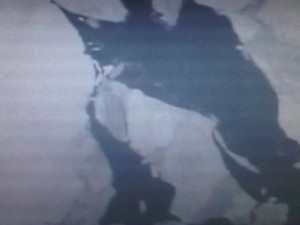 Real time updates of current weather and wind conditions will allow the flight crew to modify their flight path enroute, say officials of Emirates.
Also, Boeing says that its 787 Dreamliner aircraft uses 20 percent less fuel than similarly sized planes.
The outfit describes the Dreamliner "as a super-efficient airplane with unmatched fuel efficiency reported. Advances in engine technology as well as the aircraft's design and build process were the biggest contributor to the 787's fuel efficiency improvements, Boeing says.
For example, manufacturing a one-piece fuselage section eliminated 1,500 aluminum sheets and 40,000 – 50,000 fasteners. Also, composite materials make up 50 percent of the primary structure of the aircraft including the fuselage and wing.
Airbus says it continues to work on quieter and more fuel efficient jetliners, describing its A380 as a benchmark for fuel efficiency and low noise levels, and such new-generation jetliners as the A350 XWB will push this envelope even further. With 25 per cent less fuel consumption than current-generation aircraft, the A350 XWB, the company adds, is designed to be eco-efficient from gate-to-gate, providing the long-range market's leading environmental performance.
Similarly, a solar-powered airplane that developers hope eventually to pilot around the world has landed safely in Phoenix, Arizona, USA on the first leg of an attempt to fly across the United States using only the sun's energy, project organisers said.
The plane, dubbed the "Solar Impulse," took 18 hours and 18 minutes to reach Phoenix on the slow-speed flight, completing the first of five legs with planned stops in Dallas, St. Louis and Washington on the way to a final stop in New York.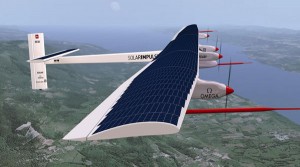 The spindly-looking plane barely hummed as it took off Friday morning from Moffett Field, a joint civil-military airport near San Francisco.
It landed in predawn darkness at Sky Harbor International Airport in Phoenix, according to a statement on the Solar Impulse's website.
The flight crew plans pauses at each stop to wait for favourable weather. It hopes to reach John F. Kennedy International Airport in New York in about two months.
Swiss pilots and co-founders of the project, Bertrand Piccard and Andre Borschberg, will take turns flying the plane, built with a single-seat cockpit. Piccard was at the controls for the first flight to Arizona.
The lightweight carbon fibre Solar Impulse has a wingspan of a jumbo jet and the weight of a small car and from a distance resembles a giant floating insect.
The plane was designed for flights of up to 24 hours at a time and is a test model for a more advanced aircraft the team plans to build to circumnavigate the globe in 2015. It made its first intercontinental flight, from Spain to Morocco, last June.
The aircraft is propelled by energy collected from 12,000 solar cells built into the wings that simultaneously recharge four large batteries with a storage capacity equivalent to a Tesla electric car that allow it to fly after dark.
The lightweight design and wingspan allow the plane to conserve energy, but make it vulnerable. It cannot fly in strong wind, fog, rain or clouds.
The plane can climb to 28,000 feet and flies at an average of 43 miles per hour (69 km per hour).
The project began in 2003 with a 10-year budget of 90 million Euros ($112 million) and has involved engineers from Swiss escalator maker Schindler and research aid from Belgian chemicals group Solvay.
By Michael Simire (with Agency Reports)