On November 28 and 29, hundreds of thousands of people around the world will take to the streets in more than 2,000 events in 150 countries to turn up the heat on leaders heading to the Paris Climate Summit.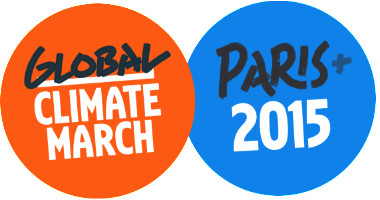 Frontline community representatives, unionists, faith leaders, and families will call on politicians to forge an ambitious new global climate agreement this December that speeds up the just transition from fossil fuels to 100% renewable energy and protects vulnerable people from worsening climate impacts. The people's call for leadership will be harder and harder to ignore.
With the major march in Paris cancelled due to security concerns following the horrific terrorist attacks which occurred there on November 13, French activists are calling for people around the world to march in their name, in solidarity with them.
Ultimately, citizens' voices will be heard throughout the Paris Climate Summit which runs from November 30 to December 11, 2015 – including in the streets of the French capital as activists explore creative ways forward. The Summit is set to deliver a comprehensive climate agreement which should scale up the transition to 100% renewable energy.
The Global Climate Marches happening around the world will be a symbol of the unshakeable resolve of the movement working for a safer, fairer and cleaner world.
Highlights include:
Schoolchildren will be joined by Thom Yorke from the band Radiohead, singer songwriter and activist Charlotte Church, fashion designer and campaigner Vivienne Westwood, actor and political activist Vanessa Redgrave, poet, spoken word artist and playwright Kate Tempest, singer-songwriter, musician and activist Peter Gabriel, and the band Massive Attack in the London march
In India, Global Climate Walks are planned in seven cities featuring yoga, biking, and marching. The main activity will be in New Delhi, where on Sunday morning, people from across society will join together for the climate.
In Kampala, Uganda, 500,000 people are expected progress through the city led by popular local leaders and celebrities and topped off with a concert, all while Pope Francis is in town.
Across The Philippines, over 20 events, marches, and rallies are planned. In Manila, 20,000 people are expected to converge in Quezon City as part of a broad march with six contingents: climate-impacted communities, faith organization, youth, labor, anti-coal and renewable energy.
More than 60 events are planned across China with students coming together for a series of events including round table discussions, bike rides, screenings and more. While in Hong Kong, Taipei and Seoul hundreds are taking to the streets to demand a just transition to 100% renewable energy. And in Vietnam, a big climate music festival is planned, bringing together more than 1500 youth.
In Japan, major actions will happen in both Kyoto and Tokyo. Each march will feature several live performances, as well as a mass photo action where people will come together as individuals to form one collective image.
Across the United States, marches will take place across the country — from Los Angeles to Austin, to Washington, DC up to New York City, thousands will gather in creative, art-filled actions in the name of climate justice.
Events are planned in Egypt's two largest cities (Cairo and Alexandria) where thousands will be running to raise awareness on climate impacts and call for urgent climate action.
In Ottawa more than 10,000 will be marching for climate solutions and justice, while in Vancouver indigenous leaders will be heading a march joining the global call for climate action.
Sâo Paulo, Brazil will see a huge gathering on Paulista Avenue where the representatives of different movements will bring forward their climate solutions. The congregation will start marching towards one of the city´s iconic parks where speeches and music will cap off the day.
In Germany, the streets of Berlin will throng with people calling for a 100% clean, renewable future and a quick phase-out of coal.
In Australia, climate marches are being organised around the country. While in New Zealand there will be a marches in Auckland, Wellington and Christchurch.
In Lagos, Nigeria, the Climate Aid Initiative will lead the People'sClimateMarchLagos procession that takes off from the Ikeja Local Government Secretariat through Awolowo Road to the office of Governor Akinwunmi Ambode, who will be presented a climate petition. It will however hold on Monday, November 30.