The environment ministers of Germany, Ecuador, Ghana and Vietnam are holding an international ministerial conference against marine litter in September 2021 to promote a global agreement against marine litter and the pollution of the environment with plastic waste.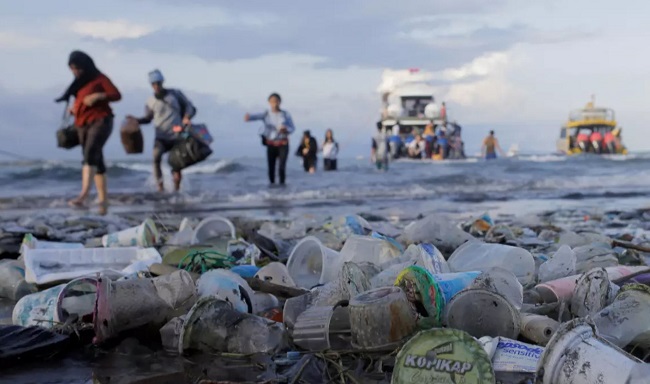 Marine and plastic litter represent a global challenge that should be met with new impulses and political will, said the environment ministers of the four countries at a virtual meeting on March 31.
In over 120 countries there are now legal provisions to restrict or prohibit the use of single-use plastics. Thirty-four of 54 African nations have banned single-use plastics. There is also such a ban in the European Union as well as an export ban on unsorted plastic waste. Regardless, it is estimated that the amount of litter entering the oceans could almost triple by 2040.
Jochen Flasbarth, State Secretary in the German Federal Environment Ministry, said: "There is no panacea with which we can make marine and plastic waste disappear, but there is a toolbox that we can use to develop solutions. For long-term success we need to focus more closely on the production and development of plastics, and we need measures along the entire pollution chain. We have the scientific knowledge, the knowledge of the entry routes and the necessary technology to accelerate innovation and at the same time protect our battered planet. "
Marcelo Mata Guerrero, Environment Minister of Ecuador, said: "A major hurdle for scientists and decision-makers today is the lack of knowledge about the biological effects of microplastics on marine organisms and humans. On the way to a global agreement, the issue needs to become more dynamic and visible. Especially in the Decade of Marine Research for Sustainable Development, this is a good impetus to provide evidence of the effects of microplastics found in our food chains and in marine life. Stopping marine and plastic litter not only means protecting the health of the oceans, but also our own."
Kwaku Afriyie Environment Minister of Ghana: "We need innovations, cooperation and financing in the areas of waste management and monitoring of marine litter, especially in developing countries that have little infrastructure and where the process is more difficult – and more difficult to finance."
Ta Dinh Thi, Director of the Vietnamese Marine Areas Authority: "The countries must come together now to develop a global strategy with clear interim goals, roles and responsibilities of stakeholders, as well as progress indicators, so that we can address the problem of transboundary marine and plastic litter. Southeast Asia is in a unique position and plays an important role here. A new global agreement will give our regional and national measures against the global plastic crisis a strong boost."
Inger Andersen, Executive Director of UNEP: "We urgently need to take transformative measures to reduce plastic waste. We cannot afford to get to the point of no going back. UNEP stands ready to assist its member states in their talks on more effective global action on single-use plastics and calls on member states and other stakeholders to start working on single-use plastics wherever possible. We mustn't waste time reducing, reusing and recycling."
According to the four country representatives, a global agreement is needed in order to achieve a coordinated approach to the threats to the seas and oceans from marine litter. The aim should be to provide financial resources for measures against marine litter and to create a common framework for action at local, regional, national and international level. The focus of the activities should include the entire life cycle of plastics as well as science-based approaches to monitoring the marine litter problem and an evaluation of the measures taken.
The ministerial conference scheduled for September 2021 is intended to serve politically to prepare the second part of the 5th UN Environment Assembly (UNEA) in the coming year, at which stronger measures against marine litter and microplastics will be discussed.
On March 31, representatives of the four countries explained their approach to hosting the conference to other UN member states and non-governmental organizations in a virtual panel discussion.
The global and ubiquitous problem of marine litter is not only wreaking havoc on marine ecosystems, it is also wreaking havoc on our planet, wildlife and human health. Specifically, nine billion tons of plastic were produced in the last 65 years, of which only 9% were recycled and 12% incinerated, which can also represent air pollution.
Every year, 12 million tons of plastic waste end up in our seas. Marine animals get caught in the garbage or ingest small parts, causing them to injure themselves or perish. Plastic waste also adversely affects food safety and quality, human health and coastal tourism, and contributes to climate change.
In addition, in the latest UNEP report Making Peace with Nature, environmental pollution, along with climate change and the loss of biodiversity was named as one of the three planetary crises that endanger the achievement of sustainable development goals and thus a balanced human-nature relationship.
Germany says it is committed to ensuring that marine litter is given high priority in global forums and was successful in the G7 in 2015 and in the G20 in 2017. In this context, action plans to combat marine litter were drawn up for the first time.
Ecuador adopted a law in November 2020 that regulates the reuse and recycling of plastics and bans single-use plastics in trade.
Ghana is said to be one of the most committed countries in the world to combat marine and plastic litter. In 2019, it became the first African country to join the ambitious Global Plastic Action Partnership (GPAP). With the support of the GPAP, Ghana's National Plastics Action Partnership (NPAP) was set up to support the development of a circular economy as the most important instrument for reducing plastic waste.
Vietnam has developed a development strategy to promote the maritime economy while protecting the maritime environment and marine ecosystems. In particular, it is intended to prevent, control and considerably reduce pollution of the maritime environment. Vietnam wants to become a pioneer in reducing the pollution of the oceans with plastic waste.
The role of UNEP is to assist member states in hosting the Ministerial Conference and to provide the best available scientific evidence to inform decision-makers before the UNEA 5 convenes again in early 2022.
The upcoming ministerial conference builds on the momentum of the Ad Hoc Open-Ended Expert Group on Marine Litter and Microplastics. The expert group called on Member States and stakeholders to recognize the scale and urgency of marine litter and work together to reverse the trend.