A two-in-one, multi-million-dollar scheme aimed at ensuring efficient use of energy while minimising the emission of harmful gases has commenced.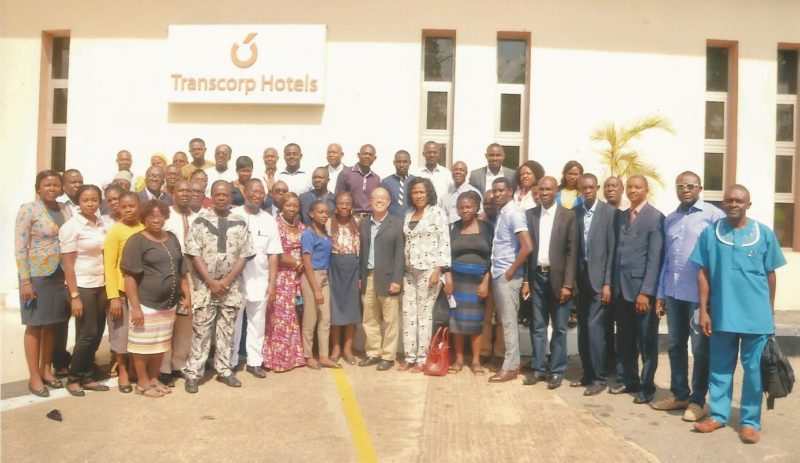 A group comprising the Global Environment Facility (GEF), United Nations Development Programme (UNDP), Energy Commission of Nigeria (ECN), Federal Ministry of Environment, Federal Ministry of Power, Cross River State Government and a team of investors is supporting the implementation of the two projects, which was officially flagged-off during a three-day inception workshop held from Wednesday, May 31 to Friday, June 3, 2017 in Calabar, Cross River State.
At a total value of about $238, 960,000, the projects are tagged: "De-risking Renewable Energy NAMA for the Nigerian Power Sector" and "Sustainable Fuel Wood Management in Nigeria".
NAMA, which implies Nationally Appropriate Mitigation Action, refers to a set of policies and actions that countries undertake as part of a commitment to reduce greenhouse gas (GHG) emissions.
While the former (Renewable Energy NAMA) is designed to bring about a transformation in the electricity mix by accelerating the contribution of renewable energy in the power sector, the latter (Fuel Wood Management) aims at ensuring coordinated and sustainable usage of fuelwood for multiple environmental and socio-economic benefits, including reduced GHG emission.
The Renewable Energy NAMA is estimated to gulp $218,150,000, out of which GEF is providing $4.4 million, the UNDP $1.5 million, ECN $1.5 million, Federal Ministry of Environment $200,000, Federal Ministry of Power N350,000, Lagos Energy Academy $200,000 and a private sector contribution valued at $210 million.
Fuel Wood Management, on the other hand, has a total project value of $20,810,000 in respect of which the GEF is making available $4,410,000, the UNDP $300,000, Cross River Forestry Commission $1.9 million, UN-REDD+ Programme $4 million, ECN $1 million, Federal Ministry of Environment $2.2 million, Fortis Microfinance Bank $3 million, SME FUND $1 million, International Centre for Energy, Environment & Development (ICEED) $2 million, and Development Association for Renewable Energy (DARE) $1 million.
"Except for the GEF and UNDP contributions that come as physical cash, all other contributions to the project are coming either in kind or as investments," discloses Etiosa Uyigue, the Project Coordinator.
Geographically focused in the states of Cross River, Delta and Kaduna, Fuel Wood Management seeks to reduce GHG emissions from the use of fuelwood in the country's domestic, institutional and industrial sectors through integrated and sustainable fuelwood production and utilisation, and promotion of sustainable biomass energy technologies using output-based and market-based approaches.
"Cross River, Delta and Kaduna states are at the forefront of the climate change, forest and land conservation agenda in Nigeria," submits Okon Ekpenyong, Director (Linkages & Consultancy) at the ECN, while justifying the choice of the states.
His words: "The UN-REDD+ selected Cross River State as a pilot to demonstrate its REDD+ readiness model. The UN-REDD+ has targeted Delta State as the next state to replicate the success in Cross River and the chosen communities have already been sensitised on the REDD+ programme and its benefits.
"Unlike the frontline desertification state, the Great Green Wall programme has also targeted Kaduna State as a buffer state to prevent future desertification. All of these programmes provide a sound baseline to superimpose additional GEF support for sustainable fuelwood management and clean energy access."
Ekpenyong, an engineer, adds: "The project is designed to comprehensively address one of the major causes of deforestation in Cross River and Delta states and land degradation and desertification in Kaduna State; specifically, the unsustainable use of non-renewable fuel wood in rural and peri-urban areas
"The project is also designed to balance the supply and demand for fuelwood through a bottoms-up approach of leveraging private sector resources and provide inclusive financial incentives (start-up loans, matching rebate schemes) and market mechanisms for sustained market supply and demand for energy efficient stoves/kilns and certified fuelwood."
The Renewable Energy NAMA, on the other hand, will develop a standardised baseline for the electricity sector as part of the development of an MRV (Monitoring Reporting and Verification) system for quantifying GHG emission reductions.
According to Ekpenyong, A GIS-based tool will be developed to guide private developers in siting geographical locations for PV, wind and biomass projects across Nigeria based on several criteria, including renewable energy resource potential, grid coverage and stability, environmentally sensitive areas, and physical infrastructure.
Concerning a demonstration project, he discloses: "For the purposes of the project, a baseline project has been identified as a 100 MW PV plant that will be implemented by Nigerian Solar Capital Partners (NSCP) in the North-East State of Bauchi.
"The NSCP project is the most advanced on-grid solar PV project being developed in Nigeria, and it has reached the stage of PPA negotiations.
"The project has also completed social and environmental impact assessments using the due diligence processes of multilateral institutions like the World Bank and the African Development Bank (AfDB). The project is also benefiting from the technical and financial assistance of the World Band and AfDB under the Clean Technology Fund (CTF)."