The Green Climate Fund (GCF) has strengthened momentum to tackle climate change in the second most populace nation by signing a key agreement with GCF's first accredited Indian bank.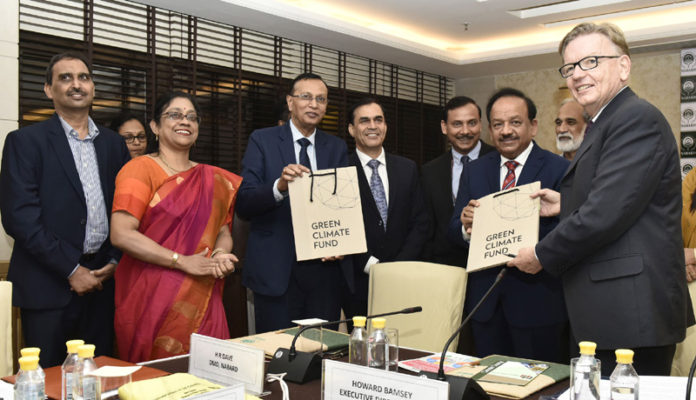 The signing by India's National Bank for Agriculture and Rural Development (NABARD) of an Accreditation Master Agreement (AMA) has reportedly enhanced the bank's role in channeling GCF finance across India.
Welcoming the AMA signing, Indian Environment Minister, Dr Harsh Vardhan, reiterated India's commitment to address climate change and said his country can do more, with finance and other support.
In emphasising that GCF support should consider India's development priorities, the Minister said: "We need to take cognisance of our population size and income inequality, and cannot ignore the basic requirement of electricity, housing, and food for the poor."
AMAs are central to GCF's partnerships with Accredited Entities, which propose and implement GCF-approved projects, as they set out the basic terms and conditions for financial disbursement. GCF approved NABARD as India's first direct access Accredited Entity in 2015. These type of Accredited Entities are nominated by developing country governments to engage directly with GCF.
NABARD Chairman Harsh Kumar Bhanwala said the strengthening of GCF-NABARD ties by the AMA signing on Thursday, July 27, 2017 in New Dehli would "result in climate action at scale in India with a global demonstration value."
"India's commitments to the Paris Agreement – such as the clean energy target and our adaptation needs around water security, agriculture and ecosystems – offer significant opportunities for NABARD to partner with GCF," he added.
GCF Executive Director Howard Bamsey said India has been acknowledged as a strong proponent of climate change action, and that GCF looks forward to greater engagement with the country as a crucial piece of the global climate challenge.
NABARD, currently managing $54 billion in assets, has given increasing prominence to climate change since it was formed in 1982 to promote sustainable and equitable agriculture by extending credit to India's farmers.
GCF has already approved one project proposed by the bank to enhance the resilience of communities in the east Indian state of Odisha, by enhancing ground water reserves and using solar pumps to irrigate crops.