Nigeria, Cross River State and the United Nations sign Nigeria's UN-REDD National Programme, with an innovative two-track approach, and gear up to implement it, says Josep A. Garí, Environmental Finance Specialist (UNDP) and Regional Advisor for Africa (UN-REDD), who is based at the United Nations Office at Nairobi, Kenya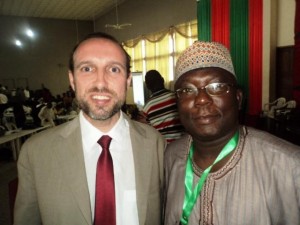 Nigeria's UN-REDD National Programme was signed on 28 August 2012, in Abuja, by the Federal Minister of the Environment, the Governor of Cross River State and the UN Resident Coordinator, with the presence of senior government officials, representatives of the diplomatic community and the media. The signing ceremony started with a minute of silence in memory of the victims of the terrorist bombing of the UN House in Nigeria, which happened just a year before.
Nigeria's REDD+ programme intends to be a catalytic endeavour in the country, part of a new vision for green development. As the Minister of the Environment, the Honorable Mrs. Hadiza Ibrahim Mailafia, stated, "The Federal Government considers REDD+ as a national development priority which forms an essential component of President Goodluck Jonathan's transformation agenda."
Part of the programme will have an operational focus in Cross River State, which is home to more than 50 per cent of the tropical high forest remaining in Nigeria. The Governor of Cross River State, His Excellency Senator Liyel Imoke, praised the signing as, "a significant event in the manifestation and actualization of our big dreams for the protection of Nigeria's last remaining tropical high forest and the mangrove forests found predominantly in Cross River State."
The signed programme, with a budget of US$4 million from the UN-REDD Programme and an implementation span of 2.5 years, will allow Nigeria to craft the REDD+ mechanism, which is part of the set of policy and financial instruments of the UN climate change convention. Nigeria's REDD+ programme has an innovative, two-track approach consisting of actions at both federal and state levels. At the federal level, the Programme will create technical capacities, develop strategic and policy frameworks for REDD+, and support the alignment of the country with international climate change and environmental negotiations and agreements. At the state level, the Programme will conduct strategy-development and demonstration activities on REDD+ in Cross River State, as this state has shown a determined political commitment for green development.
"The lessons learned in Cross River State will be used to roll out REDD+ in other States," said the Federal Minister of Environment, adding that eight additional states have so far indicated interest in joining the national REDD+ process, namely Taraba, Nasarawa, Jigawa, Lagos, Enugu, Katsina, Yobe and Oyo states. The Governor of Cross River State acknowledged the value of this two-track approach on REDD+ and stated, "We will do all that is within our powers to ensure that Cross River State remains a credible model for REDD; this is a demonstration of our appreciation for the choice of Cross River State as the pilot state for REDD in Nigeria."
The journey of Nigeria towards REDD+ started in 2009 with a growing effort of policy dialogue among stakeholders at different levels, preliminary capacity building with UN-REDD Programme's support, field visits, UN missions and joint strategic planning. The signature of this Programme signals the beginning of a new stage. Nigeria's UN-REDD National Programme was first presented at the sixth UN-REDD Programme Policy Board meeting, where it was praised for taking an innovative approach. It was subsequently approved at the seventh UN-REDD Programme Policy Board, in October 2011, after which it underwent further design improvements along with capacity building and national dialogue efforts. In particular, Nigeria organized a three-day "REDD+ University", which was a major training and dialogue event on REDD+, held in Calabar, Cross River State, last March, with more than 150 participants from federal officials to community delegates.
A REDD+ Programme is highly pertinent in Nigeria, as the country suffers a deforestation rate of 3.7 per cent, one of the highest in the world. The country urgently needs to preserve and recover its natural resource base to sustain a population of more than 150 million people, most of them holders of rural livelihoods whose prospects depend on resilient ecosystems and recovering degraded landscapes. The UN-REDD National Programme is perceived in Nigeria as both a means to halt the deforestation trends and a gateway for promoting a green development path. As the UN Resident Coordinator in Nigeria, Mr. Daouda Touré, stated during the signing ceremony, "The implementation of this Programme is likely to be a vanguard effort (that) we hope will be followed by many other national programmes for low-carbon and climate-resilient development."