The Federal University Ndufu Alike Ikwo, on Wednesday, June 15 2016, launched a novelty by floating what they call Pioneer Garden.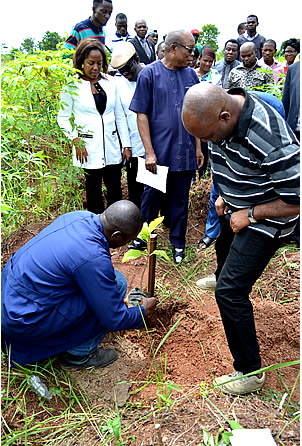 The Garden is meant to honour and immortalise staff and students who started the institution five years ago.
The Garden is located in the east of the university, akin to the Biblical Garden of Eden that shares the same location. It measures 174metres by 62 metres.
Some pioneer management staff and students took turns to plant trees in the Garden during the flag-off ceremony performed by the Vice Chancellor, Professor Chinedum Nwajiuba who initiated the programme.
The Vice Chancellor planted the first tree in the park on behalf of the pioneer Vice Chancellor, Professor Oye Ibidapo-Obe, before planting his own. Others who planted trees in the park were the pioneer Registrar, Mr. G. O. Chukwu; the Bursar, Alhaji Rafiu Aliu; the Librarian, Dr. O. O. Adedeji and the Dean of Student Affairs, Dr. C. E. Mbah who planted on behalf of the deans.
Professor GMT Emezue planted on behalf of the Deputy Vice Chancellor while Dr. Moses Alo planted on behalf of the heads of departments. Dr. Oguga Egwu, Comrade Emma Chigbata and Comrade Isdore Nwachukwu planted on behalf of ASUU, SSNAU and NAAT respectively. A cross section of pioneer students also planted on behalf of the final year set.
Professor Nwajiuba said the essence was to give honour to whom it was due, contending that pioneering was a privilege that was rare to come by. He said the Garden would be adorned with seats so that students and even the pioneer students could, in future, take their families to relax there.
He thanked the staff and students who donated plants for the occasion and promised that their names would be immortalised in a plaque to be erected in the Garden while those that planted trees would have their names etched on the trees they planted.
The Vice Chancellor stated that recognising the donors was in appreciation of their sacrifice in a society where "we are dominated by what we take rather than what we give".