The Federal Road Safety Corps (FRSC) has disclosed that top on its agenda for this year is the mandatory enforcement of speed limit device and use of the rear seat safety belt.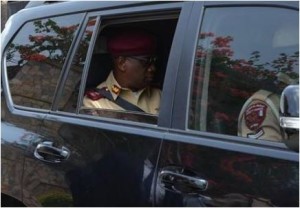 Corp Marshal, Mr. Boboye Oyeyemi, who made the disclosure at the sector headquarters in Lagos on Friday at a session with members of Guild of Corporate Online Publishers (GOCOP), said that the strategy is to continuously reduce accidents and fatal crashes on Nigerian roads.
He warned that most Nigerians, especially those who are described as "car-owners" and who usually seat at the rear, should imbibe the habit of wearing their seat belts along with other rear seat passengers or face the wrath of the law. He stressed that, by so doing, "car-owners" will inspire others beside him or her to wear their belts as well.
According to him, annually, most probable cause of road traffic crashes has been linked to speed violation, loss of control and dangerous driving.
On top of this list, Oyeyemi said, has been speed violation, which has also continued to reduce in the last four years with about 8.7 per cent. He added that, as at December 2015, speed violation road accidents were at 26.5 per cent, while loss of control was at 22.9 per cent and dangerous driving at 9.4 per cent.
He also revealed that the Corps has commenced advisory enforcement on the use of rear seat belts to further reduce fatalities and save more lives.
He, therefore, solicited partnership with the Nigerian media to ensure this initiative gets the buying-in of all Nigerians.
Oyeyemi advised Nigerians and media practitioners particularly to also show examples by fastening their rear seat belts.
He also solicited media partnership with FRSC, saying, "Nowhere in Nigeria is better covered without the Press. Information from remote parts of the country can be accessed through the Press and vice versa; hence, FRSC has better mileage when the Press is there for her."