The Federal Government's move to curtail illegal refineries and pipeline vandalism necessitated the formulation of policy to license all modular refineries in the Niger Delta region.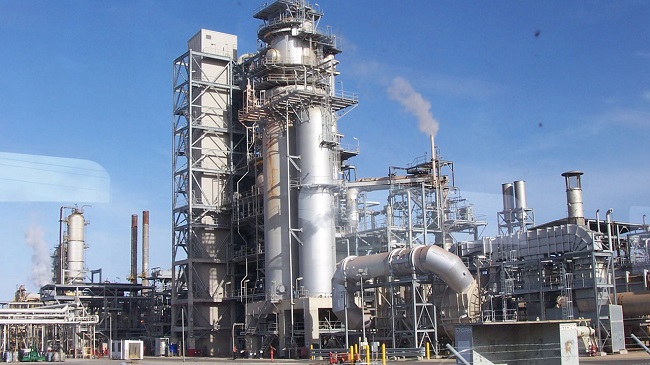 The pronouncement by the Federal Government on Feb. 13, 2017 to use modular refineries to drive rapid development in the oil-rich Niger Delta gave a ray of hope to the people of the region.
Vice President Yemi Osinbajo, then the Acting President, told representatives of people in the region during his fact-finding mission following renewed hostilities that government would liberalise local modular refineries to stamp out oil theft and pollution.
The Federal Government had in 2017 began issuing licenses to investors to build modular refineries to tackle decades-long illegal oil bunkering in the Niger Delta.
However, the expectation that illegal refineries will be upgraded into modular refineries had not materialised because the operators expected the process to be fully underwritten by government.
The former Dean, School of Engineering, University of Benin (UNIBEN), Prof. Kensington Obarisagbon, advised states and Federal Government to encourage owners of modular refineries to create national development.
According to Obarisagbon, the objective of modular refineries initiative is to promote availability of petroleum products across the country.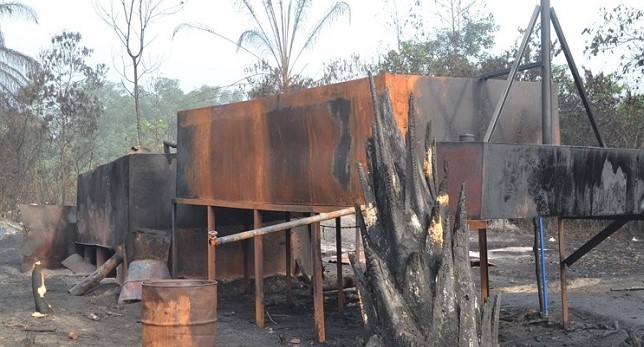 "If we have enough modular refineries we should be able to conserve foreign exchange utilisation for the importation of petroleum products and promote socio economic development.
"Promoting social development can put an end to restiveness, criminal and illegal refinery activities thereby sustaining peaceful coexistence in the Niger Delta region.
"Modular refineries can also help to mitigate and eliminate environmental degradation associated with illegal refinery activities crude oil theft and pipeline vandalism,'' he said.
According to him, modular refineries can create jobs for a large number of people. It will reduce capital flight and build new sets of industries, especially petrochemicals.
"Edo refinery, which is 60 per cent completed, has a capacity of 6,000 barrels but was put on hold because of COVID-19 pandemic.''
He said the Federal Government assistance in the establishment of a modular refinery was facilitation of crude agreements from marginal and other oil fields.
He said that the government could also help with facilitating ownership joint venture investment vehicles with organised host communities.
Dr Clement Otutu, a lecturer in Engineering Department at UNIBEN, said that the government could take advantages of falling oil prices and encourage local modular refineries.
He said that investing in local refineries would produce more funds and reduce burden on foreign reserves and foreign exchange.
"The cost of producing a barrel of oil in Nigeria is as high as $38, which means oil companies operating in Nigeria face enormous head winds at $28 per barrel of Brent crude in the international market,'' he said.
In Delta, the government is supporting an ongoing modular refinery project in the state through a Public Private partnership (PPP).
Mr Charles Aniagwu, the Delta State Commissioner for Information, said the project was in line with Federal Government's policy with the support of the Delta government.
The proposed 10,000 barrels per day capacity modular refinery project is located in Abuator, Ndokwa East Local Government Area and is billed for completion in 2021.
Aniagwu said that the state partnering with the private sector was to ensure additional revenue from investment in the oil sector to boost the state economy.
He expressed hope that when the project became operational, it would help to address some challenges in the sector.
"We are committed as a government to protect their investment by providing security and a level playing environment for all investors in the state".
Managing Director, Alexis Refinery, a modular refinery, Mr Joewy Obue, had in a recent forum in Asaba pledged to carry host communities along in the project.
According to him, relationship between host communities and Alexis Refinery will be guided by the spirit of the new Petroleum Industry Bill (PIB), with regards to local content.
He said that the refinery which would commence operations in August 2021, allocated one per cent equity shares to host communities.
According to him, the shares' allocation was informed by the need to encourage host communities to take ownership of the project.
Obue assured that adequate steps had been taken to accommodate the interest of host communities to avoid the pitfalls of the past where communities were pitted against oil companies.
He said that the Delta government with 10 per cent equity shares, the primary host community of Abuator, the neighbouring communities of Abalaga, Aboh, Beneku and Okpai and the Federal Government, through the Nigerian Content Management and Development Commission (NCMDC) were stakeholders in the project.
"The communities are an integral part of the project; they are stakeholders in the project. They are all being carried along in the spirit of the new Petroleum Industry Bill (PIB) with a lot of local content," he said,
He said that plans had reached advanced stage to pay compensation to a farm settlement towards relocation to a suitable site.
He said that the Italian multinational oil giant, AGIP would supply feedstock from its field to the refinery.
Also, Dr Kingsley Emu, Chief Economic Adviser to Gov. Ifeanyi Okowa, said that the state government would not only ensure an enabling environment, but would ensure that the local economy was protected, in terms of fair share of jobs.
In Bayelsa State, Mr Kenedy Tonjo-West, a youth leader and pioneer President of the Niger Delta Youth Coalition for Peace and Progress, said Osinbajo's pronouncement then was good news to the people in the region.
Tonjo-West however wondered how the artisanal refineries operators would raise the capital required to set up a modular refineries.
He said that the illegal refinery operators lacked the capacity to raise the financial outlay to build a modular refinery which stood in excess of $10 million.
"Our suggestion is that the repentant illegal refineries operators should be given amnesty and grouped to cooperatives to man and run the refineries when established by government.
"These youths are impoverished and cannot raise the required capital to set up modular refineries.
"It is a capital intensive and industrial project that the artisans who are involved in local refining cannot afford,'' Tonjo-West said.
Mr Roland Kiente, who operates a refining camp in Southern Ijaw Local Government, expressed disappointment at the turn of events following the pronouncement in 2017.
According to him, the projected establishment of modular refineries has been hijacked by the elites and completely excluded the artisanal refinery operators.
"We had expected government to carry us along as we were driven into crude refining for lack of jobs and when the government announced plans to use modular refineries to phase out the crude refining methods, we were pleased.
"We even formed cooperatives and stopped the local refining that we were doing in anticipation of being absorbed in the government programme.
"But we haven't seen anything yet. I feel abandoned and very many of us have returned to the creeks,'' Kiente said.
So far, only Azikel Refinery in Yenagoa Local Government Area of Bayelsa State has started construction activities which have reached 70 per cent completion stage.
The management of Azikel Refinery said it planned to source Bonny light crude grade from nearby Shell Gbarain-Ubie oilfields.
However oil theft, pipeline vandalism and illegal refining of petroleum products in the region has assumed worrisome proportion with Shell alone recording a spike in stolen crude from 9,000 barrels daily in 2017 to 11,00 barrels in 2018.
Production figures from Nigeria National Petroleum Corporation (NNPC) showed that the resumed attacks on oil installations in 2016 had dipped oil output from over two million barrels daily to about 900,000 barrels daily.
The announcement of the policy, widely applauded by stakeholders, was seen as an olive branch to artisanal refineries known locally as "Kpo Fire" operator.
On the obstacles facing artisanal refinery operators, Mr Patrick Obah, a Director at the Nigerian Content Development and Monitoring Board (NCDMB), said that efforts to integrate the artisanal refinery operators had not yielded fruits.
He made this known on Sept. 16, while speaking at the 12th Edition of annual PSRG-RICHARDSON Health, Safety, Security and Environment (HSSE) forum.
"We were involved in talks to bring the local operators together and we have been working with Bayelsa government and not much has happened in that direction.
"As part of our Nigerian Content Development mandate, we directly invested in the setting up of two modular refineries.
"They are the Walter Smith Refinery in Imo, which is ready for inauguration and the Azikel Refinery, still under construction in Yenagoa,'' Obah said.
In Rivers State, the state government made known its interest to inaugurate modular refineries when the Deputy Governor, Dr Ikpalibo Banigo, visited ND Refineries Ltd. an indigenous petroleum refining company.
Banigo led members of the House of Assembly Committee on Environment and officials of the State Ministry of Environment on a facility visit to the privately-owned refinery based in Rivers.
She said that Gov. Nyesom Wike's administration was aware of the company's positive impact within and outside its area of operation, appreciated its impact on environment and in community relations.
According to her, the state government is interested in modular refineries in order to discourage illegal refineries and as well safeguard lives of the people of Rivers and their environment.
"We want to discourage illegal refineries to save lives and ensure a safe environment. We are also interested in knowledge transfer and job creation for our teeming youths," Banigo said.
Mr Femi Olaniyan, the company's General Manager, Refineries/Projects, who conducted the Banigo's team around the facility, said the company, established about 25 years ago, was operating on Ogbele Field Oil Mining Lease (OML) 54 in Rivers.
"The company's vision is to be completely indigenous; it is 95 per cent owned by Nigerians.''
According to Olaniyan, the refinery is managed by Nigerians with proven expertise and track record.
"As early as 2006, our company decided to eliminate gas flaring and a gas processing plant was built and commissioned.
"Now we are the only indigenous company to supply gas to the Nigeria Liquefied Natural Gas (LNG) facility in Bonny Island here in Rivers state.
"We have so far supplied over 50 billion tonnes of gas to LNG in Bonny. In 2011, we built 1,000 barrels per day production facility. We now produce three trucks of diesel per day from our plant here.
"We also produce diesel in commercial quantity with customers drawn from the North East, North West, Abuja, Lagos and so on.''
He also told the team that in 2016 the company commenced the expansion of its refinery to an integrated facility to produce up to 11,000 barrels of Jet fuel, diesel, marine diesel and heavy fuel oil per day.
Olaniyan said that the company also ''produces gas for domestic consumption and has since Jan. 26, 2019 clocked one million man hours with zero lost time injuries.
"Our facility, a subsidiary of Niger Delta Exploration & Production Plc, is privately owned and can convert Naphtha to petrol with 60 per cent of its labour force from the community and has no negative safety issues.
"A considerable number of Nigerians have gained from our deliberate efforts to ensure knowledge transfer,'' Olaniyan said.
Also, the Commissioner for Energy and Natural Resources in Rivers, Dr Peter Medee said Rivers government had been talking to the Federal Government to grant licences to youths of the state to build and operate modular refineries.
According to Medee, Rivers is suffering from the activities of illegal refineries operated by youths in many parts of the state resulting in the degrading of the environment and the incidence of soot in the atmosphere.
Medee said that the state government's team to the Federal Government, led by the deputy governor, Dr Ipalibo Banigo was looking for alternatives to artisanal refining of crude oil in Rivers.
He said Gov. Nyesom Wike of Rivers constituted an inter-ministerial committee chaired by the deputy governor for the possibility of getting the licenses.
"We also have an inter-ministerial committee headed by the deputy governor of the state.
"It comprises the Ministry of Environment, Ministry of Energy and Natural Resources, Ministry of Chieftaincy and Community Development and the Ministry of Youths.
"We are out to see what we can do to be able to get alternatives to this artisanal refining. The major alternative that is available for now is the modular refining approach.
"The committee has a timeline of actions; one of which we have completed, which has to do with talking with the leadership of various communities because they know the people involved in this artisanal refining.''
But Prof. Chijioke Nwaozuzu, a don, said that subsidy on petrol and vandalism of pipelines were factors militating against the full take-off of modular refineries in Nigeria.
Nwaozuzu, who is Director of Emerald Energy Institute, University of Port Harcourt (UNIPORT), said in spite of the announcement by the Federal Government, only one modular refinery, Niger Delta Petroleum Resources, had opened for business in Rivers.
"One of the factors delaying investment in modular refineries is the subsidy on petrol as well as importation of the bulk of 66 million litres of petrol the country imports daily.
"But the investors are hoping that the price of petrol will level with the landing cost to enable them to invest and produce petrol as much as possible,'' he said.
The don listed insecurity, youth restiveness, suitable land and unfriendly business environment as some of the factors impeding investment for the project in the state.
He said that location of the refinery and "dirty" politics played by some politicians also contributed to the delayed implementation of the policy.
"Refinery is like a cash cow, in that the owner of the business always has huge sums of money in his disposal – going by high demand of petroleum products and profit.
"So, some political office holders are afraid of people who have businesses that are awash with cash and have no relationship with them.
"The political implication is that those who seek political offices are likely to meet the man who has tonnes of cash to remove their opponents from office or make them politically irrelevant.
"So, if you are not a friend of the governor, he may not give you a Certificate of Occupancy for the land you want to construct that refinery on," he said.
Nwaozuzu said projects such as modular refineries required huge capital investment running into several billions of Naira to construct.
The don expressed delight that in spite of impediments, Seplat Petroleum and Deeds Company had expressed willingness to open modular refineries in Rivers.
"The establishment of modular refineries will drastically reduce attacks on oil and gas facilities, end restiveness and create jobs for the millions of employed youths in the region," he said.
Commissioner for Petroleum Resources in Cross River, Mr Itaya Asuquo, said that the establishment of modular refineries in the Niger Delta region would create jobs for the youths.
Asuquo said in Calabar that such projects would curb youth restiveness and reduce pipeline vandalism while other businesses would spring up and drive development in the region.
According to him, the Niger Delta is richly blessed with oil, hence the need to harness the resources in which ever capacity in order to boost oil production in the country.
"The establishment of modular refinery will reduce fuel scarcity, reduce the price on fuel importation and the country will benefit more.
"If we can have the modular refineries up and running in the Niger Delta, the idea of youths going to destroy pipelines will be a thing of the past.
"What the Federal Government needs to do now is to open up on funds and guarantee investors for the state to do business.
"The Federal Government should also have an agreement that a large number of what would be produce will be taken off," he said.
He added that plans were on the way for the establishment of a modular refinery in Cross River.
A civil servant in the state, Mr James Okon, who disclosed that benefits of modular refineries were immeasurable, added that it would make the Nigeria to be less dependent on imported petroleum products.
According to Okon, the Federal Government should start up the process and expand development in the Niger Delta region
Also Gov. Udom Emmanuel of Akwa Ibom State is seeking for investors in the market to set up Modular Refinery in the state.
State Commissioner for Environment and Petroleum Resources, Mr Charles Udoh, made this known in an interview in Uyo, the state capital.
He noted that the state government had created an enabling environment to attract investors to come and invest in Modular Refinery in the state.
Udoh said: "We have been in the market place hunting for investors who will come and set up a modular refinery.
"We are looking for investors, who will come and set up refinery, government has no business in setting up modular refinery.
"Akwa Ibom government has no business in running any company or factory, what we do is to create enabling environment to attract investors to invest in creating those private entities. This is what we have done since 2015 as a government.''
According to Udoh, Akwa Ibom, being the highest producer of oil, which contributes to more than 25 per cent of Nigeria's income, has no modular refinery.
He lamented that after 33 years of the state's existence and the discovery of oil about over 50 years, ago no functional refinery is in Akwa Ibom.
He however said that a lot of investors had been wooing the state government in respect of building modular refinery but the state had yet to concretise any agreement with such investors.
"When we concretise, of course we will want the public to know but of course, we are talking to a lots of investors,'' he said.
He said that governor's administration had created more than 15 industries in the state, while the state government had created a level playing field for investors to run the industries.
"If you have investors who are interested in modular refineries, please bring them, we will talk and if it is genuine, we will go to bed with him,'' Udoh said.
He said that some benefits of modular refineries included the creation of jobs and employment opportunities, wealth creation, discouragement of illegal bunkering; refining of products and easy availability of the produce.