Following the weeklong Capacity Enhancement Workshop that held in Abuja last week, the Rural Women Energy Security (RUWES) will now embark on a campaign to solely focus on women and girls in Internally Displaced Camps (IDPs).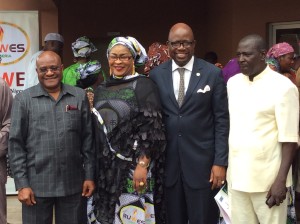 Supported by the United Nations Development Programme (UNDP), the RUWES initiative aims at promoting access to clean energy technologies and develop market and entrepreneurship skills for women and girls to eradicate poverty and improve their livelihoods.
The maiden edition of the RUWES Capacity Enhancement Workshop, which had "Unveiling the potential of the rural women," as its theme, was graced by dignitaries and featured events such as exhibitions, training sessions, drama, site visits, woman-to-woman talk and paper presentations.
However, according to Daouda Toure, Resident Coordinator, United Nations Systems in Nigeria/Resident Representative of the UNDP, unveiled the follow-up to the RUWES initiative "that will ease the burden of women caring for their families while still in the IDP camps."
He said: "The second phase of the initiative will be a pilot post-IDP camp empowerment programme, which will be in form of training women and girls in the IDPs camps in community clusters to set up community-based skill acquisition centres and small viable businesses with guaranteed support from the state governments to ensure sustainability."
Toure lauded the RUWES project, saying that its objectives align with the goals and ideals of UNDP Nigeria.
"Thus UNDP is pleased to collaborate with RUWES in organising special training and skill acquisition workshops targeted at conflict affected women and girls as well as to further strengthen the RUWES as a self-help grass root organisation," he added.
Former Environment Minister and Chairman, RUWES Advisory Board, Sir John Odey, stressed that RUWES is responding to challenges such as felling of trees to meet energy needs, enlightening and providing rural women with access to clean energy solutions and empowering them to drive the demand for clean energy – towards a climate resilient and low carbon economy in the country.
He called for collective efforts by all stakeholders in the clean energy space to scale up efforts by RUWES and UNDP and their partners.
His words: "The business community is encouraged to use part of their funds earmarked for corporate social responsibility (CSR) for projects to scale up access to these clean energy technologies and provide funding to rural women under the RUWES initiative to startup businesses in the clean energy market space. The funds should be directed through the UNDP to help scale up projects and further position Nigeria to lead the region in the clean energy revolution. We further reach out to the government and lawmakers to become advocates of clean energy."
National Coordinator, Renewable Energy Programme in the Federal Ministry of Environment, Mrs. Bahijjahtu Abubakar, disclosed that 100 trainees including IDPs took part in the Abuja training workshop, pointing out that RUWES has so far registered about two million women.
"RUWES deals with cooperative societies (with a minimum of 30 persons), which gets a package comprising of stoves and solar units upon the payment of N5,000 for registration. RUWES provides the goods so that the women can buy in instalments, such that the goods are affordable to their members. The cooperative gets the package for free and sells for a little profit," she stated.
RUWES Admin. Coordinator, Mrs. Halima Kolo Mohammed, in a vote of thanks, expressed hope that all experiences shared, lessons learnt, best practices and challenges encountered in implementing RUWES' programmes would be useful in future efforts aimed at giving rural women, internally displaced women and girls, as well as widows of the insurgency, clean energy for the necessary lift out of poverty.