Community sources in Ikarama community have reported a new case of oil spill along Shell Petroleum Development Company's (SPDC) Okordia-Rumekpe Trunk Line or TransNiger Trunk Line. The spill reportedly occurred on April 6, 2021.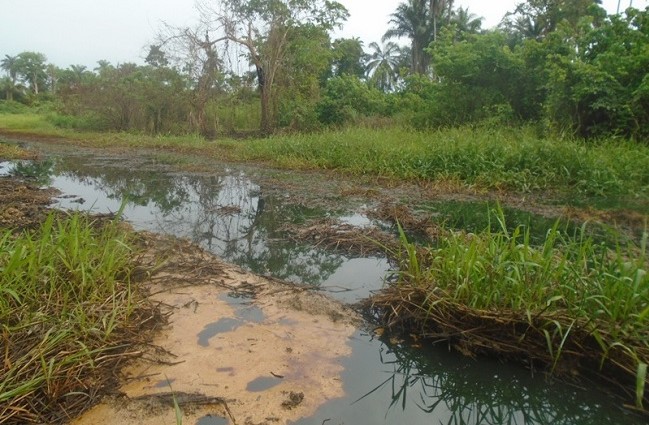 According to community folks, the spill occurred as Shell was flushing the pipeline, an act otherwise described as pigging.
Alagoa Morris, Head of Environmental Rights Action/Friends of the Earth Nigeria (ERA/FoEN), Bayelsa Office, disclosed that officials of the organisation visited the spill site on April 9, 2021.
"The fresh oil spill which occurred about 150 meters from another spill point of 2019, has since been declared as caused by corrosion or equipment failure by the Joint Investigation Team (JIT). Like the 2019 spill not far from this spill point, the spill occurred at a 6 0′ clock position on the pipeline, directly under the pipe. The spill has affected the nearby swamp, and it is expected that Shell would clean up the impacted environment before the rains set in proper," Morris disclosed.
According to him, ERA/FoEN has documented over three other spills within the same section of the pipeline in the past, that were all attributed to equipment failure or corrosion.
"It is obvious, by the number of oil spills at this section of the pipeline, that there is need to replace the entire pipeline as Shell once did at JK4 (Edabiri/Betterland) in Ahoada West Local Government Area of Rivers State," Morris added.
Ikarama is located in Okordia Clan of Yenogoa Local Government Area of Bayelsa State. The community is host to the Okordia-Rumuekpe Trunk Line own by Shell in the state.