Two ambitious initiatives to restore 100 million hectares of degraded and deforested land in Africa by 2030 were on Sunday (December 6, 2015) launched at the Global Landscape Forum, an event organised alongside the UNFCCC COP21 in Paris.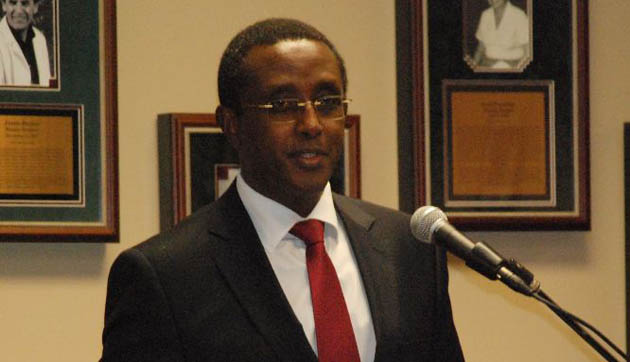 The Forum created a platform for positioning landscapes in the new international agreements on climate and sustainable development.
The African Forest Landscape Restoration Initiative – dubbed AFR100 – is a pan-African, country-led effort endorsed by the African Union with ten countries so far agreeing to commit at least 31.7 million hectares for the restoration.
The countries include the Democratic Republic of Congo, Ethiopia, Kenya, Liberia, Madagascar, Malawi and Niger. Others are Rwanda, Togo and Uganda.
"Restoring our landscapes brings prosperity, security and opportunity," said Dr. Vincent Biruta, Minister of Natural Resources in Rwanda. "With forest landscape restoration we've seen agricultural yields rise and farmers in our rural communities diversify their livelihoods and improve their well-being. Forest landscape restoration is not just an environmental strategy, it is an economic and social development strategy as well."
AFR100 partners – including the AU's NEPAD Agency, the World Resources Institute and the German Government – are earmarking more than $1billion in development finance and additional $540 million in private sector impact investment to support restoration activities.
"The scale of these new restoration commitments is unprecedented," said Wanjira Mathai, Chair of the Green Belt Movement and daughter of Nobel Peace Prize Laureate Wangari Maathai. "I have seen restoration in communities both large and small across Africa, but the promise of a continent-wide movement is truly inspiring. Restoring landscapes will empower and enrich rural communities while providing downstream benefits to those in cities. Everybody wins."
AFR100 recognises the benefits that forests and trees can provide in African landscapes: improved soil fertility and food security, greater availability and quality of water resources, reduced desertification, increased biodiversity, green jobs, economic growth, and increased capacity for climate change resilience and mitigation.
Commitments made through Initiative build on significant climate pledges made by many African countries to support a binding global climate agreement.
So far, 13 of the Intended Nationally Determined Contributions (INDCs) submitted by African countries include restoration, conservation of standing forests, or "climate-smart" agriculture.
The AFR100 will work alongside the African Resilient Landscapes Initiative (ARLI) which leverages previous experience from Africa-led partnerships such as TerrAfrica.
"The ARLI will mobilise African countries and partners to leverage sectorial interventions and collectively ensure the integrity, resilience, restoration and sustainable management of landscapes across regions," said Dr. Ibrahim Assane Mayaki, CEO of NEPAD. "We need to scale up restoration across the whole continent – more than 700 million hectares of land in Africa have potential for restoration. AFR100 provides a platform to work together more effectively to accelerate the achievement of restoration successes to benefit tens of millions of people who are currently searching for ways to adapt to climate change and improve their well-being."
The ARLI will be implemented through the African Landscapes Action Plan, a roadmap prepared by the African Union NEPAD and partners from the Landscapes for People, Food and Nature Initiative to advance landscape governance, research, and finance through priority actions that embrace all land actors and all sectors.
"Sustainably developing the drylands and conferring resilience to their inhabitants will require addressing a complex web of economic, social, political, and environmental vulnerabilities," said Makhtar Diop, Vice President for Africa Region, World Bank Group. "Good adaptive responses have the potential to generate new and better opportunities for many people, cushion the losses for others, and smooth the transition for all. Implementation of these responses will require effective and visionary leadership at all levels."
The ARLI and its supporting initiatives will contribute to improved soil fertility and food security, improve access to clean water, combat desertification, increase biodiversity and habitat, create green jobs, bolster economic growth and livelihood diversification, and increase the capacity for climate change resilience and adaptation.
Dr. Andrew Steer, President and CEO, World Resources Institute, describes restoration as Africa's gift to the world.
"As the world forges a climate agreement in Paris, African countries— which bear the least historic responsibility for climate change– are showing leadership with ambitious pledges to restore land. These countries are well on their way to meet the goal of restoring 100 million hectares of land, which will help sequester carbon and bring economic benefits to low-income, rural communities. These African leaders are turning their words into action and making a real contribution to respond to the global threat of climate change," he said.
By Kofi Adu Domfeh (PAMACC Team in Paris