A trio of blasts occurring within eight months at facilities operated by the Nigerian Agip Oil Company Limited (NAOC) has raised fresh concerns over safety procedures and status of the firm's operation.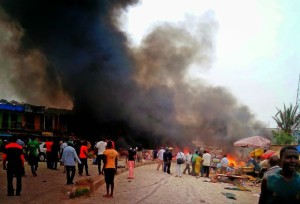 Seventeen persons have lost their lives as a result of three explosions in NAOC fields, with the most recent being March 26, 2016. The first occurred July 9, 2015 followed by an incident on February 16, 2016 which did not result in any death.
The incident of July 9, 2015 at Azuzuama claimed 14 persons, while that of March 26, 2016, resulted in three casualties.
The unsavoury development has prompted Lagos-based environment watchdog, the Environmental Rights Action/Friends of Earth Nigeria (ERA/FoEN), to demand a comprehensive audit of safety procedures at Agip oilfields in Bayelsa State. The group is also calling for a revocation of the company's license if investigations show negligence led to the deaths.
The ERA/FoEN, in a statement issued in Lagos, said the frequent explosions in oil fields operated by NAOC indicated that the company may have breached safety procedures at the cost of the lives of Nigerians.
The ERA/FoEN Executive Director, Godwin Ojo, was quoted in the statement as saying: "This is totally unacceptable. We have noticed a systematic pattern of decimation in the way NAOC carries on with its activities in the Niger Delta communities that host its facilities. Not only is the negligence of Agip reprehensible, it has cost our people their lives and livelihoods and must be investigated."
Dr Ojo recommended the setting up of an investigative panel of enquiry by the federal and Bayelsa state governments to get to the root of the matter with appropriate sanctions on NAOC if it is found wanting, and compensation for victims' families.
"Community people in Southern Ijaw LGA are fed up with the usual rhetoric of Agip to evade responsibility. We demand that community representatives and the civil society be also given an opportunity to contribute towards such an effort to bring out the truth of the matter.
The ERA/FoEN boss further recommended that autopsy be carried out on the victims of the explosions to determine the actual cause of their deaths.
"The corporate impunity of NOAC should not be allowed to pass by the Federal Government. NAOC is liable to prosecution on environmental crime of ecocide and harm to Mother Earth. We demand an immediate revocation of NOAC license by these frequent deaths of our people in the oilfield almost on a daily basis," he added.