With increasing number of displaced persons and emergency situations caused by insecurity and other natural disasters in the country, the NOTAGAIN Campaign is particularly worried about the plight of women and children during such emergencies.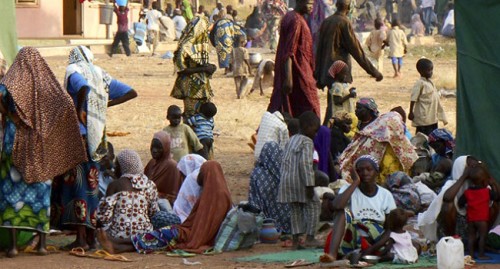 Operated by the Development Communications Network (DevComs), the NOTAGAIN Campaign aims at ending needless maternal deaths.
During the last five years, many Nigerians have been subjected to various forms of displacements as a result of communal clashes, natural disaster, conflict, violence and insurgency by the Boko Haram group in North-Eastern Nigeria.
According to a release by the Population Information and Communication Bureau (PICB), Federal Ministry of Information, to observe this year's World Population Day, Nigerians in Kogi, Rivers, Lagos, Sokoto, Taraba, Bayelsa, and Anambra states experienced emergency situations in 2012 when flooding ravaged most coastal communities in the states. The situation was said to have resulted in thousands of people displaced and relocated to Internally Displaced Persons (IDPs) camps.
In addition, insurgency and terrorism are now contributing to worsening emergencies worldwide while Boko Haram has, over the years, unleashed mayhem on almost all parts of the country, especially the North East.
The NOTAGAIN Campaign team believes that these displacements have negative impact on the health and wellbeing of the most vulnerable group – women and children, who are the most affected, as pregnant women have been seen delivering in open places devoid of medical facilities.
Speaking on the effect of insecurity on the health of mothers, the Coordinator, Accountability for Maternal Newborn and Child Health in Nigeria (AMHIN), Dr. Aminu Magashi, said, "Reports have shown that some of the women are pregnant while some are breastfeeding. Coupled with the poor habitat and inadequate medical services, these women are vulnerable to complications of pregnancy such as bleeding, infections and preterm delivery due to emotional trauma."
Similarly, the Executive Director, Women Advocates Research and Documentation Centre, Dr. Abiola Akiyode, said, "Emergencies and situations of displacement heighten the vulnerability of women and girls. Gender-based violence including rape, sexual servitude, unwanted pregnancies, coerced contraception, and abortions are the daily reality."
Thus, the time to ensure quality access to reproductive health care and rights for all Nigerians is now. The World Population Day 2015 brings an opportunity to remember the most vulnerable group of the population – women and children, who have been displaced from their natural home and forced to live in emergency situations.
"There is a strong need for these services to be made available to women and girls in emergencies and those displaced in camps or outside camps at every stage of the emergency situation."
Also, Nigerian government has been called upon to provide the needed health care for the displaced while rebuilding the health infrastructures in the destroyed communities.
Dr. Magashi said, "I call on the federal and state governments where IDPs exist to establish mobile clinics that visit the centers regularly, provide free drugs to women and children as well as ensure good water system."
Furthermore, the NOTAGAIN Campaign, led by Development Communications (DevComs) Network and WARDC, through its Media Officer, Mr. Ayodele Adesanmi, maintains that the responsiveness and sensitivity of the government to provide basic health needs for its citizens could avert needless deaths of mothers and children during emergencies.
"We believe that pregnant women and children should be adequately catered for because of their vulnerability," he said.
It will be recalled that the National Health Act was signed into law in the year 2014 by the past administration and Nigerians are already looking forward to its implementation. The Programme Manager, Health Reform Foundation of Nigeria (HERFON), Dr. Adeleke Oluwaseun, said, "This law guarantees Nigerians the right to access quality health services through primary healthcare centres, which are the closest to the people by making available basic funds that would provide for basic minimum package of health services including emergency care, treatment to pregnant women, the elderly and immunisation for children."