Ivory traffickers be warned: the Thai authorities have a powerful forensic tool in the country's drive to detect ivory of illegal origin entering its markets and ensure domestic traders are complying with new laws.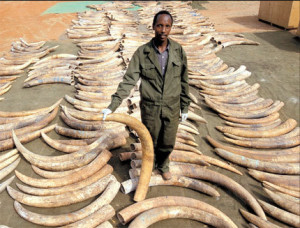 A collaborative project between Thailand's Department of National Parks, Wildlife and Plant Conservation (DNP) and TRAFFIC, the wildlife trade monitoring network, has trailed forensic DNA examination of ivory products to assess the origin of elephant ivory products commonly available in local markets.
One hundred and sixty items of small ivory products legally acquired by TRAFFIC researchers primarily from retail outlets in Bangkok were subjected to DNA analysis at the DNP's Wildlife Forensics Crime Unit (WIFOS Laboratory). The aim of the exercise was to determine whether the ivory products were made from African Elephant or Asian Elephant tusks.  The African Elephant Loxodonta africana found in 37 countries in sub-Saharan Africa, or the Asian Elephant Elephas maximas found in Thailand and 12 other Asian countries.
Forensic results show that African Elephant ivory accounted for a majority of the items tested.  Whilst the relatively small number of samples cannot be considered as representative of the entire ivory market in Thailand, it indicates that African Elephant ivory is prominently represented in the retail outlets in Bangkok.
This capability supports the enforcement component of Thailand's revised National Ivory Action Plan (NIAP) submitted to CITES in September 2014. The plan was developed to control ivory trade in Thailand and strengthen measures to prevent illegal international trade. It includes a strong focus on law enforcement and regulation, including the execution of a robust ivory registration system.
"The ability to use DNA and other forensic expertise provides great support to law enforcement," said Mr. Adisorn Noochdumrong, Acting Deputy Director General of DNP. "We are deeply concerned by these findings which come just at the moment a nationwide ivory product registration exercise is being conducted pursuant to recently enacted legislation to strengthen ivory trade controls in Thailand," added the DNP representative.
In January 2015, the Thai government passed new legislation to regulate and control the possession and trade of ivory that can be shown to have come from domesticated Asian Elephants in Thailand. With the passing of the Elephant Ivory Act B.E. 2558 (2015), anyone in possession of ivory – whether as personal effects or for commercial purposes – must register all items in their possession with the DNP from January 22 until April 21, 2015.  Penalties for failing to do so could result in up to three years imprisonment and/or a maximum fine of Thai Baht 6 million (nearly USD200,000).
"We remind anyone registering possession of raw ivory or ivory products under Thailand's new laws that African Elephant ivory is strictly prohibited and ineligible for sale in Thailand," said Mr. Noochdumrong.
TRAFFIC applauds the Thai authorities for using and highlighting the opportunities for DNA testing to determine the elephant species behind the ivory products found locally for sale. "This represents a new front in the country's capability to police the local ivory market and meet the requirements of CITES, which Thailand joined in 1983," said Dr Chris Shepherd, the Director of TRAFFIC in Southeast Asia.