Earth's average temperature set a new unofficial record high on Thursday, July 6, 2023, the third such milestone in a week that already rated as the hottest on record.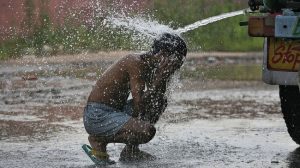 The planetary average hit 63 degrees Fahrenheit (17.23 degrees Celsius), surpassing the 62.9-degree mark (17.18-degree mark) set on Tuesday, July 4, and equaled on Wednesday, July 5, according to data from the University of Maine's Climate Reanalyzer, a tool that uses satellite data and computer simulations to measure the world's condition.
That average includes places that are sweltering under dangerous heat — like Jingxing, China, which checked in almost 110 degrees Fahrenheit (43.3 degrees Celsius) — and the merely unusually warm, like Antarctica, where temperatures across much of the continent were as much as 8 degrees Fahrenheit (4.5 degrees Celsius) above normal this week.
The temperature is ramping up across Europe this week, too. Germany's weather agency, DWD, has predicted highs of 37C (99F) on Sunday and the Health Ministry has issued a warning to vulnerable people.
The National Oceanic and Atmospheric Administration on Thursday issued a note of caution about the Maine tool's findings, saying it could not confirm data that results in part from computer modeling.
"Although NOAA cannot validate the methodology or conclusion of the University of Maine analysis, we recognize that we are in a warm period due to climate change," NOAA said.
Still, the Maine data has been widely regarded as another troubling sign of climate change around the globe. Some climate scientists said this week they weren't surprised to see the unofficial records.
Robert Watson, a scientist and former chairman of the UN's Intergovernmental Panel on Climate Change, said governments and the private sector "are not truly committed to address climate change." Nor are citizens, he said.
"They demand cheap energy, cheap food and do not want to pay the true cost of food and energy," Watson said.
In a statement issued on Friday in response to the development, a climate campaign group, We Don't Have Time, stated: "The signs are glaringly clear. The temperatures in our oceans are at alarming levels, June was the hottest month we've ever experienced, and in this week alone, we've set three new records for global temperatures!
"Yet, most still deny what needs to be done. Unless we act on climate change, undergo the detoxification treatment, and stop digging and burning fossil fuels, we are literally on the brink.
"Most will face death and chaos around us within our lifetime. I urge you to read this sentence again.
"Living in denial isn't an option anymore. Everyone must contribute to ensure our civilisation undergoes the equivalent of chemotherapy and rapidly transitions to a fossil-free society.
"There is an incredible amount to be done, but the most crucial action we can take right now is to acknowledge the elephant in the room and hold our political leaders accountable.
"We must build a popular opinion and use all of our influence, especially that of corporations, to persuade our political leaders to stop sponsoring the fossil-fuel industry. According to the IMF, $11 million per minute is spent globally on fossil subsidies!
"If we remove these, the conditions for a fossil society collapse, and we can witness a cork popping effect! While it's not everything required, it would be a significant step."
The group disclosed that it has initiated a global appeal for the cause together with UNDP, Go Climate and Exponential Roadmap. It urged companies, entrepreneurs, and investors to sign up to "make a significant difference".