Ahead of the crucial climate talks scheduled to hold in December in Paris, France, food scientists in Nigeria have called for intervention to cushion the devastating effect of climate change, and leverage efforts towards achieving food security.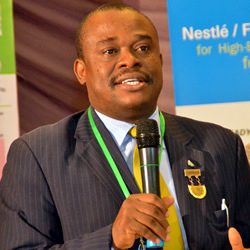 The food experts, who spoke under the aegis of their umbrella association, the Nigerian Institute of Food Science and Technology (NIFS)T, said although Nigerian farmers produce more food than is required in the country, a chunk of the produce are wasted because, the weather unlike before, is grossly unreliable to sun-dry and preserve food.
The spokesperson of the group, Dr. Chijioke Osuji, who is also the institute's National President, said in Lagos, said: "Nigeria is very vulnerable to climate Change as far as food is concerned. Most of the food we eat in this country are dried under the sun. Nigerian farmers are mostly uneducated and they rely on weather to dry their produce. They spread their harvested food on road side for the sun to dry them. Because of climate change, there is hardly enough sun at the time that it is required. So the huge produce are wasted just like that."
Dr. Osuji noted that, in addition to spoilage due to scarcity of sunlight, such open drying exposes the food to contamination, which leads many deaths in parts of the country.
"The man that is drying on the roadside is competing with dust, goats and other domestic animals, as well as rodents ,which infect the food. That explains why our foods are rejected when they get to Europe and America."
He said the way forward is for the government to intervene by assisting farmers with equipment to start drying their produce mechanically, adding: "Climate change intervention can come by way of mechanised drying which will even open new businesses. Climate change intervention can come by way of dissemination of simple technologies that will not depend on weather . There should be facilities to preserve perishables. Every household should make use of energy saving devices. The beauty of some of these things is that , as you adopt them to solve specific problems, many more jobs are created, thus tackling unemployment in the country".
He noted that climate change affects all stages of food business from cultivation to storage, thus compounding the problem of farmers and causing food to be expensive.
"We are having overflow of rivers especially in the South as the rains now fall heavily and desert encroachment is in the far north . These destroy farmlands. Farmers cannot predict the weather to know the best time to start planting."
He commended the Nigerian Meteorological Agency (NIMET) for supplying daily weather forecasts, to assist farmers and others in planning. " Fortunately, NIMET is coming up now to predict. Before we used to have issues with them."
On what the institute is doing to educate the people in climate change, he said, "Every year, we hold at least a conference to tackle one issue. A few years ago, we were at Edo State to tackle how climate change affect foods systems, and ensured that the event was well covered by the media to spread the message."
By Innocent Onoh