Indications have emerged that residents of thousands of communities in Northern Nigeria have begun relocating from their homes in order to avoid being engulfed by flood.
Reports from Kaduna in Kaduna State say that some residents along River Kaduna have fled their homes as a result of flooding.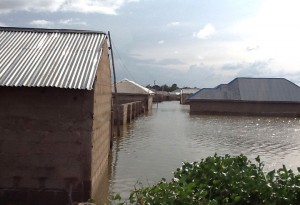 Our correspondent reports that those affected have either relocated to Hotels or are squatting with relatives.
Reports from Borno, Benue, Nasarawa and Adamawa show that residents of different affected communities are likewise fleeing their homes for alternative safe places.
Thousands of residents in some suburbs in Makurdi, the state capital of Benue State, have continued to flee their environment following the floods occasioned by rain despite measures being taken by appropriate authorities following different warnings by experts and other related agencies.
It was revealed that over 3,000 houses have been affected following reports from Borno, Benue, Nasarawa and Adamawa.
Meanwhile residents of different affected communities are still fleeing their homes for alternative safe places.
Rice Mill settlement and Hausa quarters in Wadata, Kucha Utebe as well as Gyado Villa near Judges Quarter along Gboko Road in Makurdi metropolis has been the areas worst hit  by the overflow from the River Benue.
Meanwhile, the Federal Ministry of Agriculture and Rural Development has raised an alarm on the possibility of a food crisis in Adamawa following the recent flood disaster in the state.
Residents, whose properties had been destroyed, were seen making frantic effort to evacuate their families and remaining belongings at noon yesterday in canoes, cars, buses and lorries.
Executive Secretary of the state Emergency Management Agency (SEMA) said it had consistently warned residents of the flood prone areas to relocate to higher ground but most of them had remained adamant, just as Governor Suswam had sympathised with the affected residents and called on the Federal Government for a lasting solution to the situation.
Victims have called on government to come to their aide as it is getting out of hand.
One of them, Romeo Dajoh, said that the flood which started like a child's play on Sunday evening worsened early hours of yesterday and that was why he had to move his family to safety. He therefore called on government to dredge the River Benue because it had become a threat to their lives despite the fact that the houses in the areas were situated about eight kilometers from the river.
Residents of Bulunkutu area of Maiduguri metropolis in Borno State have called on the Borno State Government to come to their aid and pump out the water that submerged their homes since the beginning of this raining season.
The call by the residents followed recent evacuation of water by government from Airport Road and 505 Housing Estate. The Bulunkutu residents called on government to extend the gesture to them.
"The government went and pumped out water on Airport Road and 505 Housing Estate, but we don't know whether we are not citizen of this state," a resident complained.
In Nasarawa State, not long after water supply was restored in parts of Keffi and environs, heavy floods occasioned by torrential rains disrupted the supply, forcing residents to scout for alternative arrangements. The development bites harder at Angwan Lambu area of Keffi.
The heavy rain which lasted throughout the night of Friday, August 25, collected storm waters at two bridges at the outskirt of Keffi in Nasarawa State, in what compelled travelers to abort their journeys for fear of being washed down the currents.
The flooded bridges are in Angwan Manyo, near Garaku, along Keffi-Akwanga road and Bokoko along Keffi-Junction-Agwada Road. The flood did not wash off the bridges as experienced in most parts of the state, but the development badly damaged the supply line along the way.