The World Bank-supported Nigeria Erosion and Watershed Management Project (NEWMAP), on Wednesday, March 23, 2022, began desilting drainages across the state to mitigate flooding.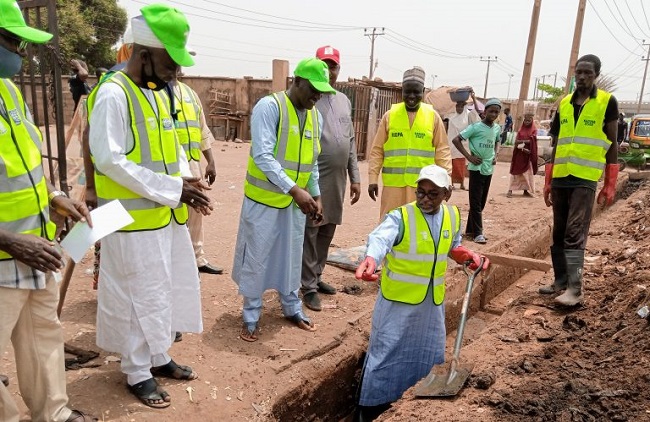 The Commissioner for Environment and Natural Resources, Mr Ja'afaru Sani, who flagged-off the exercise in Mando Road, Kawo, Kaduna, said it would be conducted across three Senatorial Districts of the state.
Sani pointed out that ahead of the  rainy season, the drainages needed to be evacuated to allow free flow of water and prevent floods beginning with Kaduna, Kafanchan and Zaria metropolises.
He said that blockage of drainages was partly responsible for some of the past incidences of flooding in some parts of the state.
"As you may be aware, most drainages in major towns in the state have been taken over by refuse, sand plastics and other debris.
"As part of our proactive measures under the NEWMAP project, we want to clear them and ensure that the rain flows seamlessly into major drains and into River Kaduna," he said.
The commissioner said sensitisation was ongoing by officials of the ministry, solid waste service providers as well as religious and community leaders.
He said that the sensitisation was key to ensuring that people desist from the bad habit of dumping refuse in drainages, adding that the effort was receiving tremendous support from the people
"All we want to see is for people to imbibe the habit of dumping their refuse in designated places and disposing of it in the prescribed manner," the commissioner said.
On his part, NEWMAP Project Coordinator, Mr Jibril Dahiru, said that the effort was part of the project's strategies to prevent erosion, land degradation and mitigate climate change.
Dahiru explained that NEWMAP was designed to address the menace of gully erosion and land degradation.
He pointed out that relevant agencies have already warned of impending heavy downpours.
"This means we have to take proactive steps to prevent flooding in Kaduna State, and we can do this by clearing our drainages and sensitising people against dumping of refuse in drainages," he said.
He appealed to residents to support the state government's efforts in managing the environment for sustainable development.
By Philip Yatai