In a bid to mitigate the incidence of flooding, the Lagos State Government on Sunday, July 23, 2017 ordered owners of properties erected on drainage channels and impeding the free-flow of water to immediately vacate or risk being removed.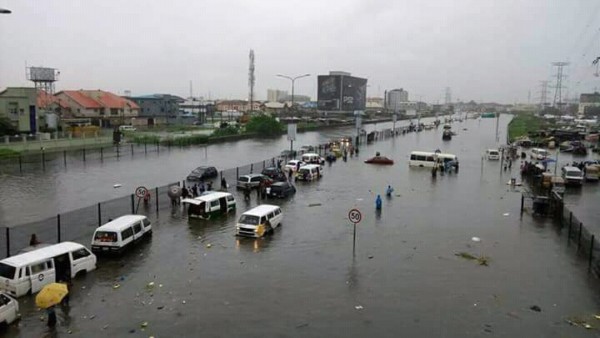 In a statement signed by the Commissioner for the Environment, Dr. Babatunde Adejare, government expressed dismay that the lawless activities of some people was constantly putting the lives and property of residents at risk.
Adejare listed some of the areas where properties were erected on drainage channels to include Illubirin, Dolphin Estate, Osborne Foreshore Estate, Ikoyi, Osapa London, Ikota, Ogombo, and Lekki, noting that the massive investment of public fund into drainage clearing and de-silting had been compromised by structures hindering the free-flow of water.
The Commissioner said government was seriously concerned that man-made causes, particularly impediment of free-flow of storm water through indiscriminate erection of buildings on drainage alignments, right of way and water courses, have played a major role in the recent experience of flooding in the state.
He added: "Therefore, it is now of paramount importance that owners of buildings or structures impeding the free-flow of storm water, wherever they exist in the state, are advised to voluntarily quit forthwith in the overriding public interest or risk being removed by the State Government as no responsible government will allow the interest of a few to jeopardise the wellness and wellbeing of the generality of its people.
"In view of the grievous consequences of compromising drainage right of way and alignment, Lagosians are hereby warned to henceforth refrain from this illegal act, report perpetrators and cooperate with the Lagos State Government in its bid to achieve a flood-free, clean and livable State."
Adejare also disclosed that government had resolved to reestablish the right-of-way of drainage infrastructure across the state also to stem the tide of flooding.
He said the decision became necessary to enhance the ability of the drainage channels to effectively discharge storm water into the rivers, lagoon and other water bodies and relieve Lagosians of the incidence of flood.
He said: "For the avoidance of doubt, Lagosians are once again reminded that the right of way for primary unlined (without concrete) channel is 25 metres and 15 metres for primary lined (with concrete) channel, while the right of way for secondary/connector channel is seven meters. The right of way for tertiary channel is three meters from the fence of the house.
"Primary channels such as canals are those emptying directly into the river, lagoons and other water bodies, while secondary/connector channels connect water from channels in the frontage of the house (tertiary channels) to the primary channel."