The Speaker, Kwara State House of Assembly, Mr Yakubu Danladi-Salihu, has appealed to the Federal Government to dredge the River Niger as lasting solution to the perennial flooding in parts of the state.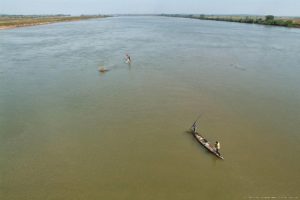 Danladi-Salihu made the appeal while on a sympathy visit to the Emir of Lafiagi, Alhaji Muhammad Kawu, and the victims of the flood-ravaged communities in Lafiagi Emirate, Edu Local Government Area of the state.
The speaker, who noted that flood was a natural disaster, identified with the victims of the unfortunate incident, especially the farmers who lost farm produce worth millions of naira.
He stressed the need to adhere to safety measures to mitigate the impact of flood.
"Your Royal Highness sir, we are very sorry for your loss, flood is a natural disaster which can only be mitigated by adherence to safety measures, victims especially farmers who lost their farmland and produce are in our thoughts in this trying moment.
"We are also sorry for coming a bit late, I insisted we would not be here without the member representing this federal constituency, Ahmed Saba; he just returned and that's why we fixed today.
"It is my prayer that Almighty Allah would continue to guide you and give you more wisdom to continue to pilot the affairs of Lafiagi Emirate to the promised land," Danladi-Salihu said.
The speaker and his entourage were later led from the palace to the flood scenes where he interacted with victims of the floods.
By Bushrah Yusuf-Badmus