After crime, flooding has been identified as the next concern of most residents of Lagos, Nigeria's commercial capital city.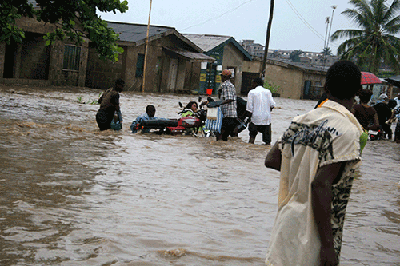 According to the Coastal Cities at Risk (CCaR-Lagos), a project being undertaken by the International Research Initiative on Adaptation to Climate Change (IRIACC), flooding in Lagos is a city-wide phenomenon that is neither restricted to a particular part of the state nor economic status of the residents.
This disclosure was made recently in Lagos during a Project Dissemination Meeting with stakeholders on the outcome of CCaR, a five-year programme that seeks to strengthen the capacity of four coastal megacities of Lagos, Bangkok, Manila and Vancouver to effectively respond to climate change and its impacts. Lead by the University of Ibadan, Ibadan in Oyo State, the research programme commenced in 2011.
It said that climate change and city growth have resulted in an increase in the frequency and spatial extent of flooding in Lagos.
The research shows that, apart from the acknowledged social and economic impacts associated with flooding, there are also physical and mental health impacts on residents.
According to the research, during flood events, affected individuals and household are subjected to several stress factors such as economic and property losses, relocating displaced people to a safe area, rebuilding of damaged buildings or walls and recovery of salvageable items.
Consequently, outcome would be loss of inner peace, insomnia, depression, discouragement and feeling of being neglected by government authorities.
It noted that, as a result of the annual flooding in affected localities, many live in perpetual fear of future flood events and the possible outbreak of an epidemic.
The research noted that the health consequences of repeated flooding could be far-reaching and difficult to cope with particularly among the urban poor.
Dr Ibidun Adelekan, lead researcher of the project, said that the recent outbreak of Cholera disease in some parts of the state could be as as a result of polluted water resulting from flooding that preceeded the disease outbreak.
"The disease was attributed to eating of contaminated 'Abacha', a local food. But we cannot rule out polluted water which is an aftermath of flooding," Adelekan said.
She said that immediate attention should be directed to create community-oriented environmental pollution control and attention geared towards addressing the burden of diseases and long term mental health impacts on flood affected population.
The research also proposed the need for a comprehensive review of legislations relating to Municipal Solid Waste (MSW) storage and collection at the household level with a view to strengthening, harmonising and aligning them to the objectives of Integrated Waste Management (IWM) models.
It urged the government to control indiscriminate waste by integrating cart pushers into the collection systems.
The recommendation, according to the research, is based on findings that 29.2 per cent of surveyed respondents still patronise cart pushers, despite being ban.
It urged the government to formulate an inclusive and broad-based policy that has the potentials of raising the stakes for all stakeholders in the management of flood, adding that focus should be centered on flood management not crisis management.
According to the research, improving the consciousness and readiness of all stakeholders to comply strictly with rules and regulations guiding urban development is the greatest safeguard against flooding.
Prof. Emmanuel Oladipo, a climatologist, emphasised the need for synergy between all the relevant agencies in addressing the issue of climate change challenges in Lagos.
"Ministry of Environment should realise that they do not have total control of the situation. There should be collaboration and cooperation between interministerial agencies; from health, environment, waste control to physical planning on efficient and effective flood control management," Oladipo said.
By Funke Ishola