An environmentalist, Mr Gafar Odubote, has called for legislation against blocking of drains and canals, saying it is immediate cause of flooding.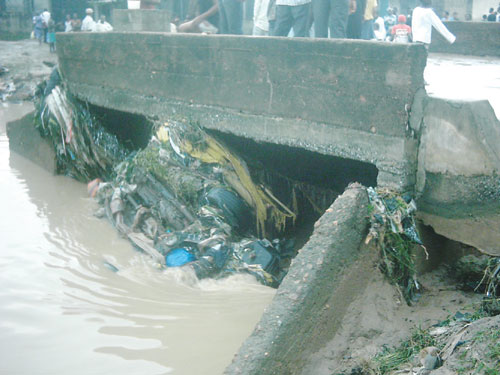 Odubote, a climate change activist, made the call in an interview with the News Agency of Nigeria (NAN) on Saturday, July 14, 2018 in Lagos.
He attributed the cause of flooding in the country to indiscriminate dumping of refuse that blocked drains and canal.
He, therefore, called on government at all levels to take preventive measures to address the problem.
"One of the major causes of flooding in Nigeria is blocked drains and canals basically.
"Plastics block drains and prevent water from running through the canal and waterways.
"We need to do more of preventive than corrective.
"One way to do the preventive is to come up with regulations that will stop people from disposing of wastes anyhow because that is the root cause of flooding in Nigeria,'' Odubote said.
He also called for effective waste management infrastructure and for sanctions to be put in place against blocking of drains and canals with solid wastes.
"The government should put the infrastructure in place to tackle the root cause of the problem, because there will be flooding year-in, year-out if we do not tackle the root cause of the problem.
"Government should make a framework and sanction people.
"People just have trash blindness and they do not care what happens to the next neighbour.
"If the government, for example, the local government, has sanction in place to check house-by-house, building-by-building and impose a heavy fine on anyone whose surrounding is dirty, people will wake up.
"If residents can make sure that the drainage in front of their houses is clean, it is going to be fine for everyone.''
By Mercy Okhiade