Governor Muhammad Bindow of Adamawa State on Monday, August 20, 2018 urged the residents to prepare for flooding following the release of water from Lagdo Dam by the Cameroonian authorities.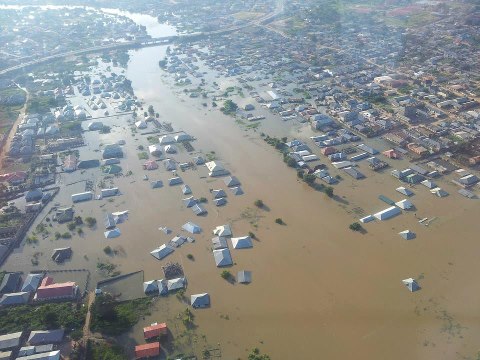 Bindow gave the warning during an emergency meeting with key stakeholders in Yola, the state capital.
In 2012, the state, as well as some other parts of the country, experienced a catastrophic flood following the release of water from Lagdo dam.
The flood resulted in the deaths of many, destruction of hundreds of farms while many families were rendered homeless.
The governor told the audience that the state government received a report two days ago that the Cameroonian authorities had released a high volume of water from Lagdo Dam.
"And we have started feeling the wave of the water because some boarder communities and farms along the bank of River Benue have been submerged.
"It has become necessary to invite all of you to put our heads together and mitigate the effects of the flood," Bindow said.
He said that it was the responsibility of the stakeholders to sensitise the people to the effects of flood and find lasting solution to it.
Mr Ahmad Sajoh, the Commissioner for Information, said that the state government could confirm that four persons had so far died as a result of the flood in the state.
He said that the flood had also destroyed many bridges and culverts, adding that nine local government areas of the state had been hit by the flood.
He said that Furore, Yola South, Yola North, Demsa, Shelleng, Guyuk, Numan, Lamurde and Girei local government areas had so far been overwhelmed by the flood.