The National Emergency Management Agency (NEMA) has partnered the Nigerian Meteorological Agency (NiMet) and Nigeria Hydrological Services Agency (NIHSA) to downscale early warning flood alerts to the 36 states and the Federal Capital Territory (FCT).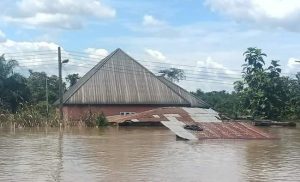 Mr Mustapha Ahmed, Director-General, NEMA, said this in his speech at the Mid-term review of the Sendai Framework for Disaster Risk Reduction (SFDRR) 2015 – 2030, held at the United Nations Headquarters, New York.
This is contained in a statement signed by Mr Manzo Ezekiel, Head, Press Unit, NEMA, in Abuja.
Ahmed said that, following the 2022 flood disaster experience, the Federal Government had also set up a presidential committee to develop a comprehensive action plan on flood prevention in the country.
The director-general said that the inclusive approach was in tandem with the declaration of the UN Secretary General, Antonio Gutterres, who in 2022 said that every person on earth should be protected using early warning systems.
"In line with target G of the SFDRR on delivering early warning to all Nigerians, NEMA in collaboration with the Nigerian National Space Development Agency (NASDA) is working assiduously to increase the availability of and access to multi-hazard early warning systems.
"And disaster risk information in an inclusive manner through both conventional and non-conventional communications channels including the social media," he said.
The director-general also explained how the country had made appreciable efforts at actualising the four priorities and seven targets of the Sendai Framework for Disaster Risk Reduction.
He however requested that the United Nations Office for Disaster Risk Reduction (UNDRR) supports the country with technical assistance for capacity building and training on early warning, forecast, hazard risk analysis and dissemination to the public, post disaster needs assessment, among others.
By Ruth Oketunde