Oluwatoyin Awosika, the Director of Public Enlightenment, Lagos State Ministry of Information,
on Friday
urged residents living on flood-prone areas to relocate to safe locations.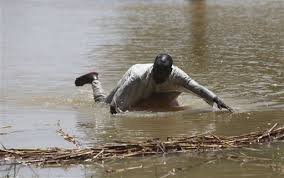 Awosika told the News Agency of Nigeria in Lagos that the ministry had commenced sensitisation of the affected residents to change their attitudes in order to avert flood disasters.
He said the state spent huge resources to make refuse collection cheap and affordable, adding that measures were already in place to relocate residents in case of flood disaster.
He said: "People would tell you all sorts of things.
"The water is flowing, they dump everything there, but it is going to block somewhere.
"So what happens?
"The water will fight back into homes.
"At night they cross the roads to dump refuse into the drains and on the highways.
"Government is always very careful.
"If you force people out now, they would tell you where do you want to relocate them to.
"Government doesn't have the house to relocate.
"If there is a flood disaster, we would move them to the Imota and the Egbeda resettlement areas.
"So, you can't say you are going to push them there until the rain leaves.
"So the best is to advice (them) to evacuate.
"It is not easy sincerely.
"Where are they going?
"Are they going to rent new apartments and then come back when the rains have stopped?
"So government is to continue to sensitise you to the dangers.
"Why we are telling you to relocate is that if a serious flood comes, you are now giving the excuses of money and this, lives would go.
"You cannot buy the lives.
"Your property gone.
"You cannot replace most of them.
"So it is better you try to relocate.
"Our own is to continue to hit the mindset, attitudinal mindset.
"That is all we continue to do.
"People change; we keep showing the documentaries for people see how the drains are blocked.
"What happens, how they de-flood, hit the road, spoil houses, everything."
NAN reports that the Nigerian Meteorological Agency had predicted heavy rains and possible flooding in 2015.
NIMET has advised people living on flood plains to relocate to safe areas.
NAN.