The Federal Government of Nigeria has ordered  the immediate evacuation of people living along the River Niger plains.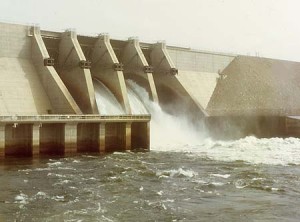 Spokesperson for the National Emergency Management Agency (NEMA), Yushau Shuaib, said in Abuja that the alert came because the Kainji and Jebba dams have attained their highest water levels in 29 years which, he declared, is unprecedented in the history of the two facilities.
To avoid a possible collapse of the dams, the authorities may be left with no option but to release some of the water.
This situation, according to Shuaib, has created a high risk of imminent flooding in the downstream of the river.
The residents of the communities are therefore urged to move to higher grounds for safety. The states at risk of the flood are Niger, Kogi, Kwara, Kebbi, Anambra and Delta.
He noted that  the agency had already notified  the affected states to take the necessary precautionary measures by relocating people from the flood prone areas and activated the National Contingency Plan as well as alerted all stakeholders to take necessary actions in line with their various mandates.
The states are to ensure compliance with  the threat in order to avert imminent loss of lives and properties that would certainly arise in the event of flooding, he added.
Furthermore, information available indicates that the gauge for monitoring the flow of water in the river has already exceeded the maximum height by over one meter.
A rapid assessment team comprising officers of NEMA and scientists has left for Jebba and Kainji to further inspect the situation.
The Niger River is the principal river of western Africa, extending about 4,180 km. Its drainage basin is 2,117,700 km² in area. Its source is in the Guinea Highlands in southeastern Guinea.
Kainji Dam is a dam across the Niger River in western Nigeria. Construction of the dam began in 1964 and was completed in 1968.
The Jebba Dam is one of the three major dams in Niger State. It was built in 1985. Others are Kainji Dam built in 1968 and Shiroro Dam built in 1990.
Laide Akinboade