History was made on Saturday, July 6, 2013 when the first occupant at the Grenadines Homes, Citiview Estate, Arepo in Ogun State, officially took possession of his dwelling unit – an imposing four-bedroom detached duplex christened "Grenadines Mansion".
The family becomes the first of a total of 80 expected to occupy the initial phase of the estate, where numerous other homes under construction are getting to the finishing stages.
Designed by the firm of Play In Architecture Limited and built within six months, the Grenadines Mansion sits on three floors with a Boys' Quarters. Grenadines Homes also features "Grenadines Heights", which is a variant of "Grenadines Mansion" as it is also a four-bedroom detached apartment on three levels. The estate also displays the four-bedroom semi-detached duplex.
Marketing Manager at Propertymart Real Estate Investment Limited (developers of the estate), Mr. Olumuyiwa Osinowo, listed ongoing infrastructure work in the estate to include: asphalt road network, central water treatment system, perimeter fencing for the entire estate, green areas, recreational areas, swimming pool, helipad, security network, underground power cabling and a central power generating system for the entire estate.
"The estate is contemporary, unique and designed to entertain the owner," he added.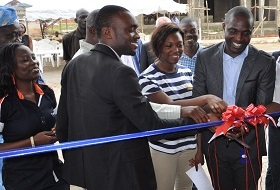 Head of Play In Architecture Limited, Mr. Tona Ladega, described the estate and the dwelling units as futuristic in its layout and design, giving ample access to every corner of the building, "such that moving from the garage to the bedrooms is totally fluid and effortless."
He added: "Luxury is not location bound. It can find root anywhere, as long as those things that are integral to luxury living are available. The Grenadines Homes, Arepo is a wholesome experience expression of luxury, with the added advantage of being away from the noise and pollution of the city."
Located just outside the city limits, Grenadines Estate is a few minutes' drive from the Lagos State Secretariat at Alausa and the Murtala Muhammed International Airport, and close proximity to business community of Victoria Island and Ikoyi.
Head of the first family in the estate, who prefers anonymity, thanked the management team of Propertymart for making his dream of owning a befitting home come true. According to him, he had always wanted to relocate from his previous base to Lagos or somewhere close to Lagos, and he has now been able to achieve that desire.
"I am convinced that, at this rate of the company's progress, Propertymart will change the face of real estate development in Nigeria to meet international standards. I want to encourage the management team not to relent in the good work it is doing, sustain the tempo and ensure that the entire project is eventually delivered as scheduled," he said.