The Global Green Growth Institute (GGGI) organised several discussions on the side-lines of the Glasgow Climate Change Conference (COP26) that ended on Saturday, November 13, 2021.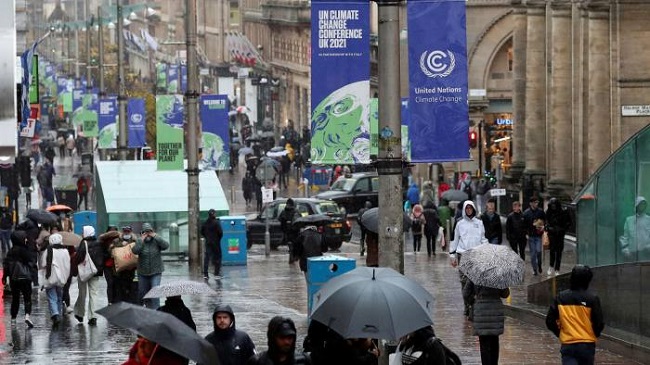 Side events during the second week of COP26 featured the importance of bilateral ODA for climate action and green recovery, a focus on the Republic of Korea among other countries, and ways to integrate gender into countries' NDCs under the Paris Agreement.
On November 8, an event on Upscaling Green Climate Financing and Green Official Development Assistance (ODA) for Climate Action and Green Recovery of Developing Countries explored a range of financing options and initiatives for climate action and green recovery through bilateral ODA and other funding sources.
Organised by GGGI and the Korea Water Resources Corporation (K-water), the event included remarks from Ban Ki-moon, President and Chair of GGGI and former UN Secretary-General. Ban underlined three elements required to achieve sustainable and inclusive development and resilience: achieving net zero emissions by 2050; catalysing access to green finance; and increasing the green share of ODA.
The event highlighted GGGI projects, including:
A Green Climate Fund (GCF) representative highlighted approval of the Catalytic Capital for First Private Investment Fund for Adaptation Technologies in Developing Countries, the first private sector investment fund for adaptation.
A November 10 event on "Accelerating Progress on Korea's Net Zero 2050 Target" focused on:
actions that would catalyse green finance and increase ODA;
how linking pollution and carbon emission reductions can accelerate progress;
the importance of listening to the voices of the future generation of leaders;
the role of cities in reducing carbon emissions through setting their own targets and tracking implementation of their own plans to address climate change; and
innovative initiatives of Korean civil society organisations to introduce and adapt to carbon-free living.
The event was hosted at the Korea Pavilion and organised by GGGI and the Climate Change Centre, who together serve as the Secretariat for the Blue Skies and Net Zero 2050 Campaign, a platform to demonstrate support for the Korean Government to announce a net zero emissions target by 2050.
Ban Ki-moon delivered a message, as did representatives of youth organisations, the private sector, and civil society.
An event titled "Adopting Net Zero and Enhancing Climate Action with Gender Perspectives in NDCs" also convened on November 10. Speakers noted that challenges remain for developing best practices for integrating gender into NDCs. The event focused on ways to eliminate barriers to women's access to finance, agency, and political influence in countries' shifts towards low-emission development pathways.
The event was co-hosted by GGGI and the NDC Partnership, which supports gender equality being integrated in NDCs. Panellists hailed from LAO PDR, Tonga, and Antigua and Barbuda.
This article was first appeared on the SDG Knowledge Hub, here: http://sdg.iisd.org/news/financing-gender-in-ndcs-highlighted-at-cop-26-side-events/