Fidelity Bank staffers, under the auspices of the "Fidelity Helping Hands" on Wednesday, September 6, 2017 volunteered and took part in cooking and serving food as well as distributing water, drugs and bread to Internally Displaced Persons (IDPs) at the Makurdi International Market IDPs Camp in Benue State.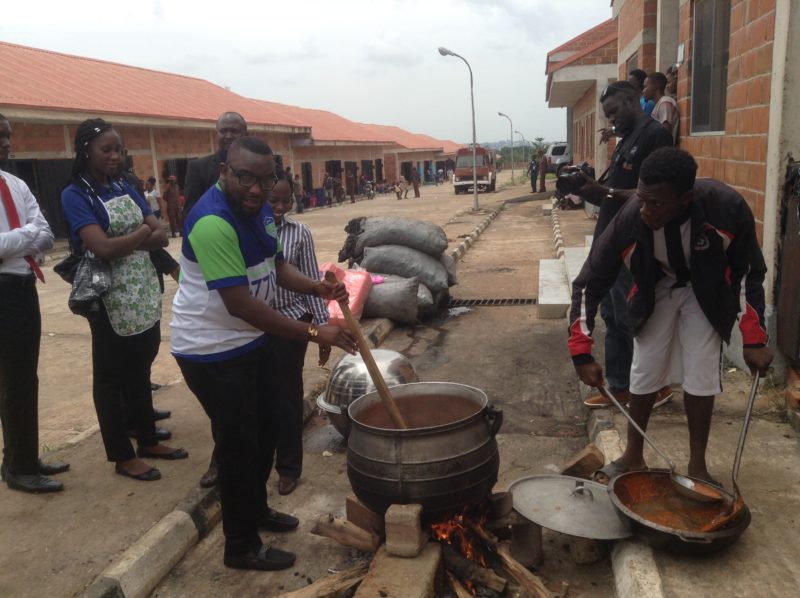 Speaking to EnviroNews after the volunteer exercise, Head, CSR and Sustainability, Fidelity Bank Plc, Mr Chris Nnakwe, lamented that the flood situation in Benue was a touching disaster and that the bank got involved so as to aid the IDPs in the face of their present predicament.
He maintained that the Fidelity Helping Hands is poised to impact positively on the lives of people in difficulty, hence the organisation saw it necessary to reach out to the IDPs in Makurdi to alleviate their sufferings.
"We wanted to get involved by volunteering physically in serving and feeding the IDPs other than just donating relief materials to them.
"These people are not sure of the next meal, among other needs, and depend on people's aid in form of relief; so, I call on everybody to remember to share with these group of people," he stated.
Speaking while receiving a carton of malaria and pain relief drugs donated by Fidelity to the camp health centre, Permanent Secretary, Benue State Ministry of Health and Human Services, Dr Joseph Kumba, thanked Fidelity Bank and all involved in giving succour to the IDPs. He described the coalition as very helpful.
According to Dr Kumba, the idea of the health centre carrying out preventive and curative medical services to forestall any death on camp has been enhanced by support given by many organisations and they have been able to maintain a good health status.
Also commenting on the gesture by Fidelity Bank, an IDP and mother of two, Mrs Doowuese Agba, hailed the bank, stating that the organisation has shown them (the IDPs) that there is hope even though they are displaced.
It will be recalled that on Tuesday, September 5 2017, a Fidelity Bank representative, Mr Emmanuel Aduku, donated assorted relief materials worth N1 million on behalf of the bank to the IDPs.
By Damian Daga, Makurdi