The Federal Government and the Lagos State Government are set to sign a Memorandum of Understanding (MoU) over the use of the National Stadium in Surulere, Lagos. Indications are that this may materialise on Wednesday, March 1 2017.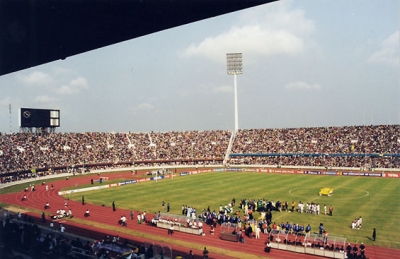 The signing exercise stemmed from the interest shown by the Lagos State Government on the use of the stadium towards the tail end of February.
The state governor, Akinwunmi Ambode, had paid a condolence and courtesy visit to the Youth and Sports Minister, Solomon Dalung, at his residence in Abuja, where he expressed the state's intention in the renovation of the stadium for commercial use.
The governor impressed it on the minister that the last time a football match was played at the stadium was in 2005, adding that he wants to bring the stadium back to life, as well as the football culture the state is known for.
With this in mind, Ambode invited Dalung to Lagos to ascertain the level of decadence and to hold talks on the evaluation and the next line of action to be taken on the stadium. This prompted the minister to visit the fading facility, on a joint working inspection with the state government.
It will be recalled that the Sports Ministry had handed over the Enugu, Bauchi and Kaduna stadia to respective state governments for commercial use.
By Felix Simire