The Federal Capital Territory Emergency Management Agency (FCT-FEMA) has partnered with the University of Abuja to educate citizens on the impact of flooding and its mitigation.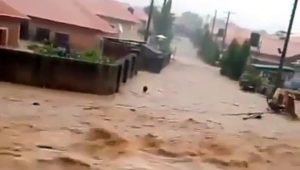 The Director-General, FEMA, Dr Abbas Idriss, made this known in a chat with journalists on Thursday, July 13, 2023, in Abuja.
Idriss explained that under the partnership, FEMA would be working with the Department of Political Science and International Relations to educate residents on weather and the consequences of flooding.
He added that the Faculties of Geography, Environmental Science and Social Science, and Community Services, would also work with the agency to sensitise residents, especially those at the grassroots.
According to him, the measure was part of efforts to mitigate the impact of flood in the FCT, due to the expected heavy rains in the coming months across the country.
He explained that the sensitisation exercise would cover the entire FCT, with focus on flood management, environmental issues and community engagements and participation.
He also said that under the partnership, the two parties have concluded plans to organise a symposium, scheduled for July 31, at the University of Abuja Auditorium, targeting about 1000 participants.
He added that the participants would comprise students, lecturers, staff of FEMA, traditional rulers, and community members from all the six Area Councils of the FCT.
Others, he said, include FEMA Vanguards, volunteers and local divers from the six area councils.
"This collaboration with the University of Abuja is apt because the peak of the rains in the FCT falls within July, August, and September.
"As you may have noticed, some houses were flooded during the recent heavy downpour in the FCT while many farmlands were washed away.
"FEMA will continue to organise town hall meetings to be on the same page with community members and their leaders," he said.
He called on all residents to make use of the toll-free emergency number for prompt response, adding that there was need for adherence to early warnings.
By Philip Yatai