The Federal University Ndufu-Alike Ikwo (FUNAI) in Ebonyi State on Wednesday, June 14, 2017 carried out a fresh round round of tree planting exercise to promote eco-friendliness, guard against environmental degradation, provide edible fruits for staff and students, and ensure total greening and aesthetic beauty of the University environment.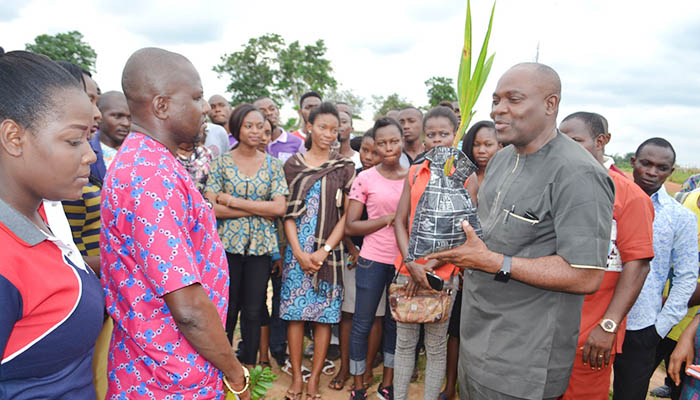 This was part of the activities lined up for the students' week, in respect of which the final year students of the university gave their full support to the Campus Greening Initiative of the University Management by donating some of the fruit trees that were planted in the event.
Speaking during the campaign, the Vice Chancellor of the university, Prof. Chinedum Nwajiuba, explained that investment in nature as carried out by the final year students is a long term one, which its value may even outlive the donor, since trees have a long life span.
"You may not know the importance of what you are doing here today until you come here in years to come with your children during their matriculation or convocation ceremony.
"Then you will know you have actually invested in nature," the Vice Chancellor told the final year students who donated some trees as part of their contribution to the greening effort of the University Management.
Earlier, the Technical Officer, Horticulture and Landscaping Services, Mrs Celestina Adebayo, explained that the activity was part of the systematic campus greening programme of the university aimed at enhancing the campus beauty, ensuring aggressive afforestation of the university, combating environmental degradation caused by soil erosion and mitigating the challenges of climatic change in the institution.
Trees such as kola nuts, (coco musifera), coconut and other types of fruit trees were planted during the event by both staff and students.