Nigeria's president, Goodluck Jonathan, has allocated the sum of N17.6 billion to states and agencies to cushion the effect of floods in many parts of the country.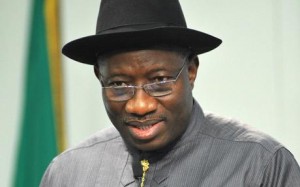 The breakdown of the figure shows that N13.3 billion goes to the affected states, while agencies involved in tackling the disaster will receive N4.3 billion.
The president made the announcement on Tuesday morning in a national broadcast on the state of the nation.
He also raised a committee on flood relief and rehabilitation headed by Business mogul, Aliko Dangote and former president of the Nigeria Bar Association, NBA Olisa Agbakoba.
The National Committee on Flood Relief and Rehabilitation has Dr. Mike Adenuga, another business mogul as the chief fund mobiliser.
The committee has one year to conclude its tasks among which is to raise funds in support of government's efforts to provide urgent relief for victims of floods across the country.
The affected states were categorised into four groups based on the present assessment.
Category A states will receive N500 million each, while states in category B and C will get N400 million and N300 million respectively.
The government splashed N250 million each on states in category D.
States in the A Category are – Oyo, Kogi, Benue, Plateau, Adamawa, Delta, Bayelsa and Anambra.
While Jigawa, Kano, Bauchi, Kaduna, Niger, Nasarawa, Taraba, Cross River, Edo, Lagos and Imo are pooled in category B.
Kwara, Katsina, Gombe, Ogun, Ondo, Ebonyi, Abia and Rivers are the states in category C.
The category D comprised Sokoto, Kebbi, Zamfara, Yobe, Enugu, Ekiti, Osun, Akwa Ibom, Borno and the Federal Capital Territory.
The committee which is also expected to advise government on the judicious utilization of funds raised has been authorized by President Jonathan to co-opt any other persons or organizations that it may find useful in carrying out its assignment.
The committee members are expected to operate from the office of the Secretary to the Government of the Federation.