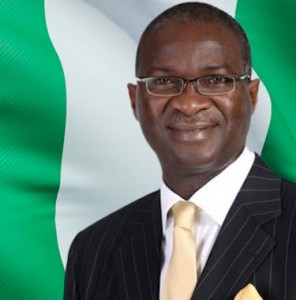 Lagos State Governor, Babatunde Fashola, has said that the citizens should have the courage to vote out any government that is non-performing to their expectation and should reward the performing one by keeping it in office as long as the constitution allows.
The governor gave the advice during the 15th Mike Okonkwo Annual Lecture series with the theme, "The Power of Your Vote: A catalyst for A Stable and United Nigeria".
The event was part of the Lecture and Awards Ceremony for the Mike Okonkwo Educational and Youth Initiative Essay Competition (MOEYI) which took place at the Shell Hall of the MUSON Centre, Onikan.
Fashola said it was no longer democratic when the people have allowed a bad government to serve out its full terms before saying it should be changed.
Base on this, he charged that just as the voting public must be ready to change a bad government, it must also work vigorously to keep a good one in government, adding that that is where the choice is inherent and embedded in a democracy.
The governor explained that the United States of America and the United Kingdom have had several scores of Presidents and Prime Ministers in position but no one can easily recall the names of at least a quarter of them off hand because in those countries the voting public have been quick to remove those who perform below expectation and also kept those who performed very well for as long as the constitution allowed it.
Noting that there was a connection between politics and what happens in the day to day life of every individual, Fashola said people who are fond of saying they cannot participate in politics fail to realize the fact that everyone is a political animal stressing that everybody should show interest in who and how they are governed.
While quoting from a Social Scientist: Berthold Bretch to buttress his point, he said: "The worst illiterate is the political illiterate, he hears nothing, and he sees nothing. He takes no part in political life, he doesn't seem to know that the cost of living, the prices of beans, flour, rent, medicine and all depend on political decision. He even prides himself on his political ignorance, sticks out his chest and say he hates politics, he doesn't know that from his political non- participation comes the prostitute, the abandoned child, the robber and worst of all corrupt officials- the lackeys of exploitative multinational corporations".
He stressed that after several voting exercises and the results were released, it is often observed that not more than 35 percent of the registered voters come out to exercise their voting rights, saying another opportunity now beckons as it does once in four or five years period for citizens to exercise such rights.