At a daylong inception workshop that held in Abuja on Tuesday, November 29, 2022, the Food and Agriculture Organisation of the United Nations (FAO) in Nigeria and the Global Environment Fund (GEF) officially commenced the implementation of a scheme that focuses on conservation of biodiversity and sustainable land use in lowland landscape of Ogun, Edo, Delta and Ondo states.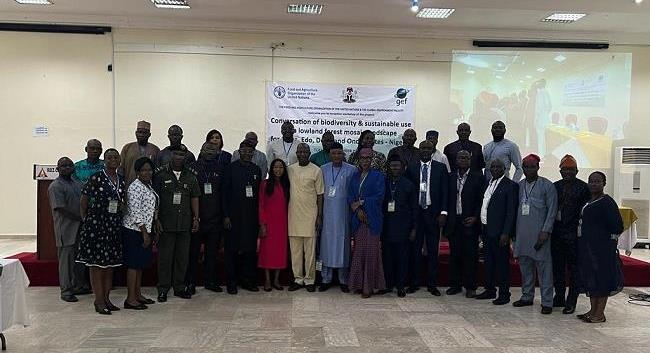 Climate Change Specialist, FAO, Nifesimi Ogunkua, stated that the goal of the 60-month, $3.5 million initiative is to to improve the conservation, sustainable use and restoration of a lowland forest landscape in order to protect globally significant biodiversity and strengthen sustainable livelihoods of local communities in the project states.
She listed the project components to include:
Integrated landscape planning and management, that entails the promotion of integrated landscape management (ILM) system that will enable conservation of forest biodiversity and sustainable forest land use.
Implementation of biodiversity conservation and restoration within protected areas and buffer zones of the landscape, which involves the restoration of remaining core biodiversity areas in the landscape (better protected, connected and effectively managed).
Implementation of sustainable production practices and nature-based tourism in connecting, productive agricultural areas of the landscape, that includes promoting adoption of sustainable production practices and livelihoods within priority areas of the landscape.
Knowledge management, wherein knowledge and innovation are diffused at multiple sub-national, national and international scales.
While introducing the project, Christopher E. Cosslett, GEF project development specialist, expressed concern over large-scale deforestation and degradation of Nigerian lowland forests and loss of associated biodiversity in Ondo and Edo states, which are driven by oil palm, cocoa, legal and illegal logging and hunting.
He outlined challenges and barriers to be addressed, such as barriers to integrated landscape management (capacity, knowledge, coordination, financial); barriers to effective protected area management (human capacity, equipment, financial); barriers to productive and equitable production landscapes (technical, incentives); and, barriers to diffusion of knowledge and good practices.
Shedding some light on the strategic results framework at the Project Preparation Grant (PPG) stage, he stated that state-level policies were strengthened in Ogun, Edo and Delta states to support ILM implementation and to incentivise biodiversity conservation and sustainable practices.
Similarly, there were three harmonised landscape management plans for Ogun, Edo and Delta
states. Also, there was detailed mapping and designation of priority areas for conservation and
restoration within existing protected areas, including one national park, portions of 10 to 12 forest reserves, and several community conservation areas (CCAs).