There are four types of wetlands, namely: marshes, swamps, bogs and fens.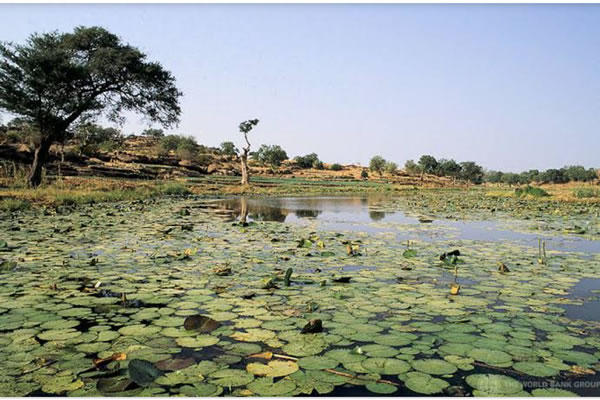 Wetland ecosystems play a critical role in supporting the livelihoods of millions of people. Nigeria has 11 wetlands of international importance that were recognised on the Ramstar list.
The Ramsar Convention on Wetlands of International Importance (especially Waterfowl Habitat) is an international treaty for the conservation and sustainable use of wetlands. It is also known as the Convention on Wetlands, signed on February 2, 1971 in Ramsar, Iran.
"The Ramsar Convention on Wetlands of International Importance, also known as the Ramsar Convention or the Convention on Wetlands, is an intergovernmental treaty that provides the framework for national action and international cooperation for the conservation and wise use of wetlands and their resources."
The total area of Nigeria's 11 wetlands is about 1,076,728 hectares. These wetlands include: Lake Chad Wetlands in Borno State, Dagona Birds Sanctuary in Yobe State, Hadejia-Nguru Lake in Jigawa and Yobe states, Maladumba Lake in Bauchi State, Baturiya Wetlands in Jigawa States, Forge Islands in Kebbi State, Apoi Creek Forests in Bayelsa State, Padam and Wase Lakes in Plateau State, Upper Orashi Forests in Rivers State, Oguta Lake in Imo State and Lower Kaduna-Middle Niger Floodplain in Niger State. Others are Sokoto-Rima Valleys, as well as Hadejia Komadugu and Baturiya Wetlands in Jigawa State, northwest Nigeria.
Nigeria's rich ecosystems are being threatened and lost at an alarming rate due to population pressure, poverty, deforestation, intensive cultivation, plantation, oil and gas exploration, industrial waste pollution, coastal and marine erosion, overgrazing as well as climate change.
According to Dr. Muthari Aminu-Kano, Director General, Nigerian Conservation Foundation (NCF), "Wetlands sustain life and keep us healthy. Healthy watersheds provide natural, safe drinking water and support food production. Wetlands give us much of the fresh fish we eat and are used in cultivating rice for an estimated 3.5 billion people globally. Wetlands are important for biodiversity as 40% of the world's species live in wetlands, with 200 new fish species discovered in freshwater wetlands annually."
The Niger Delta is the largest wetland in Africa and the third largest mangrove forest in the world. The region is known for its richness in biodiversity as well as its oil and gas resources.
The Hadejia-Nguru Wetlands in Yobe State, northeast Nigeria, is being threatened by reduced rainfall due to growing population, overgrazing and upstream dam construction.
According to Wetlands International, "The Lake Chad Basin has lost 95% of its surface area due to water abstraction for irrigation projects. Also, dams in northern Nigeria especially the Hadejia-Nguru Wetlands have the benefits of the floodplain ranging from approximately US$9,600 – US$14,500/m3 of water, compared with US$26 – US$40/m3 for the irrigation project."
By Taiwo Lawrence Adeyemi