Four former employees of the British American Tobacco Nigeria (BATN) sacked for medical redundancy have taken the company before a National Industrial Court seeking a declaration that their sack was unlawful.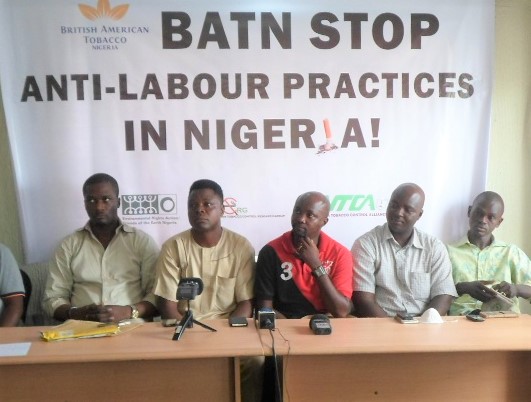 Timothy Makinde, Ayodeji Da Silva, Taofeek Alabi, and Ayodele Awe are claiming N50 million each as general damages for the company's refusal to follow the procedure for "Disengagement of Medical Grounds" as stipulated in the Employee Handbook and Employee's Compensation act.
They are also seeking, as alternative claims, the sums of N39 million, N48 million, N34 million, and N32 million respectively as special damages.
Joined as defendants in the suit before Ibadan Division of the National Industrial Court is the Nigerian Social Insurance Trust Fund Management Board.
Mr. Makinde, 34, who was employed in 2004 as a Manufacturing Assistant, was disengaged in 2016 after he was diagnosed with Osteoarthritis, a medical condition that causes pain and stiffness at the joints.
Before his employment at BATN, Mr. Makinde was made to undergo a mandatory medical test at the Lagoon Hospital, Apapa, Lagos, where he was certified fit.
He said he never had any medical history of Ostheoarthritis; adding that in the course of discharging his duties as a manufacturing assistant in the company's Secondary Manufacturing Department, he was made to manually load, regularly, the cigarette trolleys which weighed 70 kilogrammes.
The employee also said the company forced him to work him to work a 12-hour shift arrangement for six days of the week.
"I was not given any sick leave prior to the termination of my employment on 'medical grounds'," Mr. Makinde stated in his witness deposition before the court.
"There was no medical examination conducted on me by a team of assessors which composition should be: company medical advisor, my physician, and an independent occupation health physician."
For Mr. Da Silva, who was employed in 2006 as a Technical Trainee, his job description included manual checking of tobacco and filter, running of machine for 12 hours, and manual blowing and cleaning of tobacco dust.
It also included removal and carrying of launch belt and a large fan weighing 100kg and 60kg respectively during maintenance as well as clearing of tobacco blockage among others.
But in 2011, during the company's periodic sports week, he sustained a knee injury during a football game which was left untreated for weeks because the medical personnel said he needed to get the approval of management.
By the time he was instructed to go to a hospital, both knees had become swollen and an arthroscopy surgery performed in 2013 showed he had a cruciate ligament damage (exterior and posterior) that would require serious physiotherapy and knee filling.
Mr. Da Silva said BATN abandoned him at the hospital for weeks and he ended up paying N85,000 for his treatment before returning to work.
"On the 24th of January, 2014, while I was on night duty and on the way from the human resources manager's office, I fell down on the staircase due to a weak knee," Mr. Da Silva stated.
Ignoring medical suggestions that Mr. Da Silva be re-assigned to a department which will not require him to stand for long periods, BATN allegedly terminated his employment in October 2016.
Like Mr. Da Silva, Mr. Alabi was also employed as a Technical Trainee in 2004 and, according to him, BATN failed to put in place appropriate safety measures at the workplace causing the staff to work without a standard noise mask and professional safety boot.
As a result of the defects, Mr. Alabi said after 10 years of exposure to tobacco dust, machine vibrations, laser fumes, noise and carrying heavy equipment; he developed cervical and lumbar spondylosis.
"I noticed that I couldn't turn my neck again, I started having pains whenever my neck is turned," said Mr. Alabi, 41.
"The pain increases day by day till a Sunday, the 8th of February, 2014, when I left for one of the company's hospital (Tobi Hospital) on BATN list at Felele, Ibadan. Some drugs were prescribed, e.g. tramadol, di-clofenac and the likes.
"On administering the drugs, it was as if it was the drugs that put the pains on my neck, but after completing the dosage, I started feeling the pain again. I went back to the same hospital on the 15th day of February, 2014, and all the drugs were repeated, but this time around there was no effect of those drugs on the pain."
Despite visiting many hospitals and seeing several doctors, Mr. Alabi said his condition did not improve.
On May 5th, 2016, he received a letter from BATN terminating his employment, he added.
Mr. Awe, who was employed in 2003, worked as a machine operator where he packed cigarettes into packets, cleaned machines using compressed air, used of silicon spray, as well as exposed to heat when the chiller was down. He said he worked for over five years on the production floor without standard work gears.
Four years later, he developed chronic asthma and high blood pressure, conditions that were alien to him as he passed the company's pre-employment medical tests.
"Domestically and environmental wise, I dare not move near the kitchen whenever my wife is frying or cooking because of the smoke and heat," said Mr. Awe, a father of three.
"I used to be an active football player, I dare not play ball for five minutes, my breathing will change, I am an endowed singer, today I can't sing even in church again my breathing will change. I am not normal again."
On Tuesday, November 23, 2016, seven of the BATN disengaged staffers addressed a press conference in Lagos, where they alleged, among other claims, that they were exposed to raw tobacco leaves, worked in poorly-ventilated environment, suffered various illnesses and unceremoniously discharged from work due to the condition they found themselves.
The ex-staffers were: Dasilva Ayodeji, Winston Ofulue, Awe Ayodele and Alabi Adekunle. Others are Folarin Shasudeen, Makinde Timothy, and Jokanola Folarin.
But BATN in a reaction reiterated its commitment to the welfare of its employees, saying that it is part of its internal human rights policy.
It added; "These allegations are based on labour issues which were managed according to our policies and ranged on various issues, which included poor performance, disciplinary issues as well as health related redundancy. All these cases were objectively determined in line with our internal processes, global policies and all extant Nigerian Laws."